3MT Research Spotlight: Sarah Rothman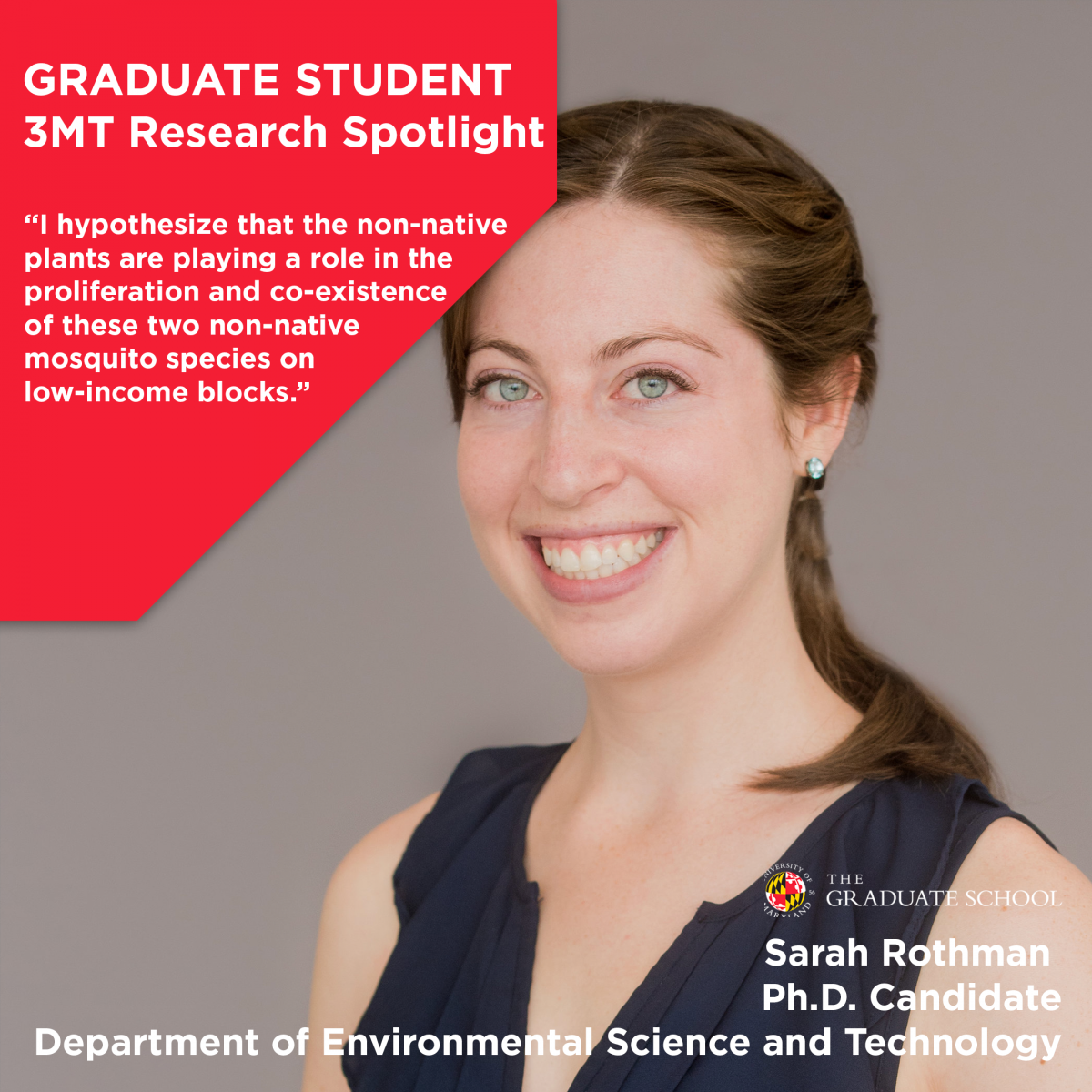 Sarah Rothman, Doctoral candidate of the Department of Environmental Science and Technology, won the UMD 2022 3-Minute Thesis Competition (3MT), for her presentation titled "Mosquitoes and Urban Green Space across Socioeconomic Gradients." 
This fall, she is representing the University of Maryland in the international Three Minute Thesis (3MT) Video Competition and is in the running for the 3MT People's Choice Award.
The competition, hosted by Universitas 21 (U21), an international network of research universities, challenges doctoral students to communicate the significance of their research to a broad audience in just three minutes.
Sarah's research examines how residents in socioeconomically disadvantaged areas are at an unjust risk of West Nile exposure. In particular, her research aims to understand what factors lead to the rise of the dangerous mosquito populations in these areas, looking to non-native trees as a key culprit in the spread of mosquitoes.
When asked about her research, Rothman said,
"My research often centers on the effects of human-introduced invasive species, whether in temperate forests, surface mines, or urban landscapes. As a doctoral student in the Department of Environmental Science and Technology, I study the relationship between non-native mosquitoes and urban green space along socioeconomic gradients in Baltimore, MD and Washington, DC. Understanding the associations between mosquitoes, plants, and people may help us better target mosquito infestations and manage inequitable disease risks. When I'm not being bitten by mosquitoes during fieldwork, I spend my time being bitten by mosquitoes while canoeing, gardening, and reading outside."