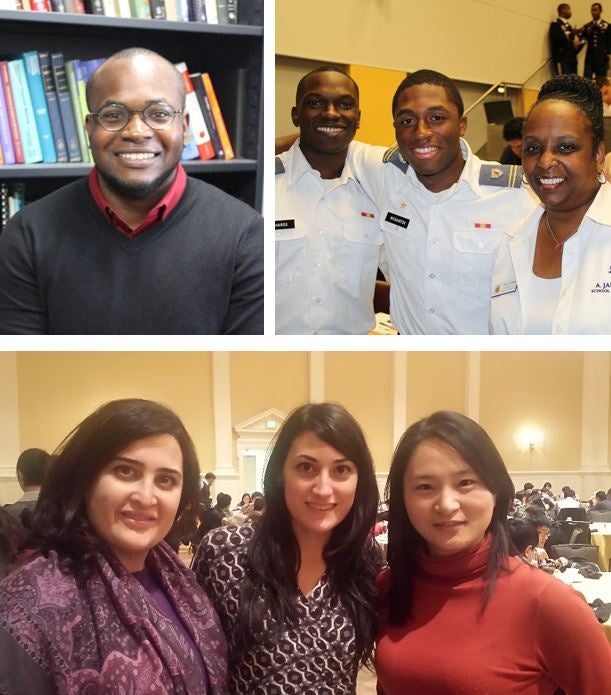 Ranked first among the Association of American Universities in the number of doctoral degrees conferred to African-American students in 2013, UMD is committed to fostering a supportive environment for all graduate students, including those from underserved and underrepresented populations.
UMD receives over 25,000 graduate applications annually from students with a variety of backgrounds. Working closely with campus graduate programs, the Graduate School's Office of Diversity and Inclusion recruits the very best of these students to the vibrant UMD graduate community. The Office also develops programs to support, retain, and graduate these talented students. As a result, minority students comprise 19.6% of the graduate student population, international students comprise 31.2% and female students comprise 47%.
Keeping Maryland's PROMISE
Funded by the National Science Foundation, PROMISE: Maryland's Alliance for Graduate Education and the Professoriate (AGEP) is a university system-wide effort to increase the number of minority students receiving doctoral degrees and entering the professoriate in the fields of science, technology, engineering, and mathematics (STEM). As one of PROMISE's founding partners, the University of Maryland coordinates several programs and activities for this demographic. In September 2014, the Graduate School co-hosted the GEM Grad Lab, an event intended to encourage students of color to pursue advanced STEM field degrees. We welcomed over 100 participants from a number of nearby universities, offering them guidance on preparing for advanced degrees and exposing them to the programs, resources, and opportunities available to them upon entry into graduate school.
The Graduate School also organizes an annual workshop that prepares students attending the Universities at Shady Grove for graduate study at UMD or any other institution of higher education. A large majority of these students come from underrepresented groups.
In November 2014, we welcomed our first PROMISE Postdoctoral Fellow, Obioma Ohia, PhD, to the College Park campus for an enriching, year-long research experience. "The overall goal of this fellowship, which is to promote faculty diversity, is important because faculty have a long-term ability to influence campus culture and environment and strengthen the ability of universities to serve diverse student bodies," Ohia said. "A diverse faculty can encourage students who have similar backgrounds and cultural beliefs, and serve as role models." In addition to conducting research, Ohia will participate in a community of scholarship, create new collaborations, and cultivate employment opportunities. He will also receive a stipend, benefits, and career development guidance. 
Recruiting the Best and the Brightest
The Graduate School is committed to recruiting the brightest minds among the nation's minority students, and therefore, engages in a number of activities to recruit and support these students. Through the Ronald E. McNair Graduate Fellowship Program, for example, we provide McNair Fellows with full support, including, a stipend, tuition, health insurance, and mandatory fees, for the first year of enrollment. Currently, there are 23 McNair Graduate Fellows on campus.
In November 2014, Arthur Popper, PhD, senior faculty advisor for the Graduate School's STEM Initiatives; Bob Steele, PhD, director of the Graduate School's Office of Diversity and Inclusion; and several UMD faculty attended the Annual Biomedical Research Conference for Minority Students (ABRCMS). The delegates met hundreds of promising students from universities across the country and encouraged the students to pursue advanced degrees in the STEM fields at the University of Maryland. 
Creating a Sense of Community
All UMD graduate students are members of the larger graduate community – one that cuts across race, ethnicity, age, gender, sexual orientation, and academic discipline. The Graduate School hosts events and provides opportunities throughout the year to foster a strong sense of community among all graduate students and increase intercultural connection and interdisciplinary collaboration.
Each year, we hold a luncheon for our Flagship and McNair Fellows, providing them with an opportunity to meet one another, discuss academic interests, and share ideas on initiatives that the Society of Flagship and McNair Fellows might pursue. Currently, there are 60 Flagship Fellows and 23 McNair Fellows on campus. The newest cohort includes 18 students representing six colleges and 17 programs/departments.
In Fall 2014, the Graduate School hosted its annual Networking Reception for Students of Color as well as the system-wide PROMISE Fall Harvest Dinner and the International Thanksgiving Dinner to help students of color and international students connect across their respective disciplines and form a supportive community.