Office of Graduate Diversity and Inclusion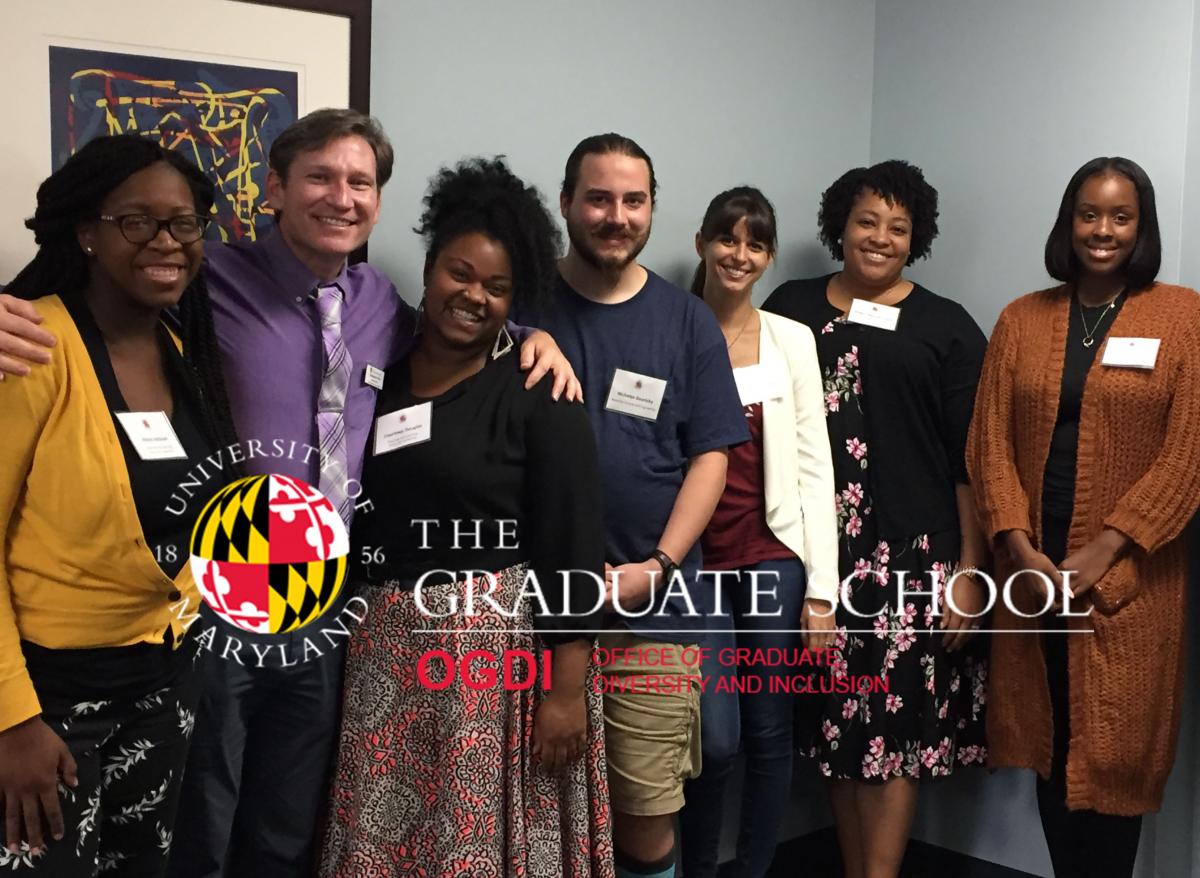 The University of Maryland is committed to fostering a supportive environment for all graduate students, regardless of race, ethnicity, nationality, gender, age, religion, language, sexual orientation, disability, or academic discipline. UMD recognizes that the unique and varied identities and experiences of our graduate students enrich the campus community as a whole.
Working closely with campus graduate programs, the Graduate School's Office of Graduate Diversity and Inclusion (OGDI) recruits the best and brightest students to the vibrant campus graduate community, including those from historically underserved and underrepresented populations.  Learn more about OGDI's Diversity Recruitment Working Group Team and The Graduate Diversity and Inclusion Advisory Board by clicking on the links below.  OGDI also develops programs and initiatives to support, retain, and graduate these talented students, and fosters a strong inclusive community by providing opportunities for intellectual and social interaction. OGDI not only supports graduate students in their academic, professional, and personal endeavors, but also educates the campus community about the importance of diversity in the laboratory, the classroom, the workplace, and the community at large.
As a result of these efforts, minority students comprise about 20 percent of the graduate student population, international students comprise about 31 percent, and female students comprise close to 50 percent. Furthermore, UMD ranked first among the Association of American Universities in the number of doctoral degrees conferred to African-American students in 2013.
Learn more about UMD's strategic plan, educational programs, and campus resources related to diversity. Explore other campus-wide units, such as the LGBT Equity Center, and programs, such as ADVANCE, Interfaith, and CRGE to see how they too are working to foster connection and collaboration across UMD's vibrant and diverse campus community.
Contact Information: 


Christopher Pérez · cperez6@umd.edu · 301.405.0763 

          (He/Him/His)

Director, Office of Graduate Diversity and Inclusion

​     Diversity Officer for The Graduate School

     UMD NSF PROMISE AGEP Coordinator 

     UMD Big Ten Academic Alliance SROP Coordinator

     UMD Big Ten Academic Alliance Diversity Officer

     Graduate School Recruitment Officer

     GEM Fellowship Campus Representative 

     UMD SACNAS Chapter Co-Advisor

     UMD oSTEM Chapter Advisor



Marlen Cruz · mycruz@umd.edu · 301.405.3312 

          (She/Her/Hers)
Graduate Assistant, Office of Graduate Diversity and Inclusion


Master's Student, Behavioral and Community Health, School of Public Health

 

 

 




Stephanie Treat
          (She/Her/Hers)

Staff Intern, Office of Graduate Diversity and Inclusion

Undergraduate Student, Psychology, College of Behavioral and Social Sciences

Undergraduate Student, Music Performance, College of Arts and Humanities.

Student Advisory Committee for the Vice President for Diversity & Inclusion (SAC-VPDI)





Keisha Simone Allan, PhD

          (She/Her/Hers)

Postdoctoral Associate in Latin American and Caribbean Studies
Stay up-to-date wtih all things OGDI by joining our Facebook group page. Jobs, announcements, campus engagement projects, news, all things UMD diversity and inclusion related, and other items are posted regularly. All are invited to join the OGDI Facebook group page.
You can also follow OGDI by using hashtag #OGDI with all social media.