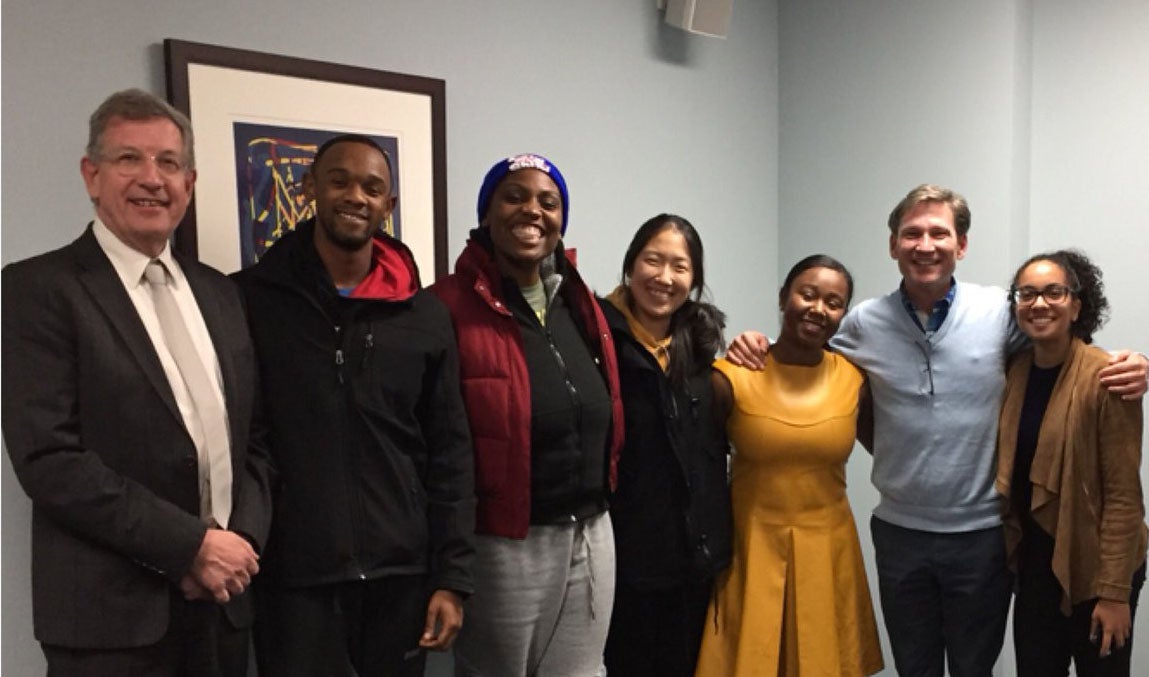 Since 2011, the Graduate School's Office of Funding Opportunities has awarded 36 McNair Graduate Fellowships. While this award comes with a generous financial package of over $40,000 over four years, its primary purpose is to enhance opportunities for doctoral programs to recruit and retain outstanding McNair alumni from institutions across the country. Two McNair Graduate Fellows, Dr. Shelby P. Cooley ('15, Human Development) and Dr. Marisa Franco ('17, Counseling Psychology), have successfully completed their doctoral degrees. Cooley is a Research Scientist for the The Road Map Project, supported by the Community Center for Education Results (CCER), a nonprofit organization based in Seattle. Franco just started her first year as an Assistant Professor of Counseling and Psychological Services at Georgia State University's College of Education.
Once students arrive on campus, McNair Graduate Fellows are offered professional development and support through the Office of Graduate Diversity and Inclusion (OGDI).  Programs generally include monthly workshop sessions throughout the year on mentoring, networking, work/life/school balance, and goal-setting.
And to recognize the significance of the McNair Graduate Fellowship's extensive co-curriculum, the program was recently minted the Society of McNair Fellows (SMF). "The investment by the fellows through the years has been phenomenal, and the feedback they have provided inspired us develop the idea of a formal program," says OGDI Associate Director Christopher Pérez. "The programmatic part of the McNair Graduate Fellows was designed to help build community among the particpants, but we also offer research oriented skill-building, and career planning objectives that help fellows sustain success during their doctoral study and after graduation," adds Pérez.
One student in particular, Gabriella Estevez, can attest to the benefits of such support. Estevez was a McNair program participant at Rutgers University. Before joining the McNair Program, she had no idea what a doctorate entailed and much less how to get there. But Estevez was certain she wanted to pursue psychology as a career path. And indeed in 2016, she graduated with two bachelor's degrees, and enrolled in the School Psychology doctoral program at College Park.  Because of her outstanding academic achievements, her program nominated her for the McNair Graduate Fellowship. "The Rutgers [McNair] program provided me the mentorship, guidance, and preparation necessary to map out the path to a doctoral degree as a Latina woman. I was surrounded by others who faced some of the same struggles, and together, we created a support team. And I didn't realize how much I would need that once I enrolled at UMD," says Estevez.
"The Society of McNair Fellows allows us to come together and support one other personally and professionally. I believe McNair Scholars who have enrolled in doctoral programs have had a unique journey to get to this point, regardless of what undergraduate institution they came from. We hear a lot about "self-care" and "finding your support systems" as doctoral students and I believe the SMF is an important element in our academic path. I am grateful for programs that are informational, such as S.M.A.R.T. Goal Setting, within a comfortable and friendly atmosphere. It is very easy to get bogged down in all of the independent work that is expected of us as doctoral students, and the Society has provided me an opportunity to learn with and from other McNair Fellows in different programs," adds Estevez.