UMD Virtual Grad Fair and Open House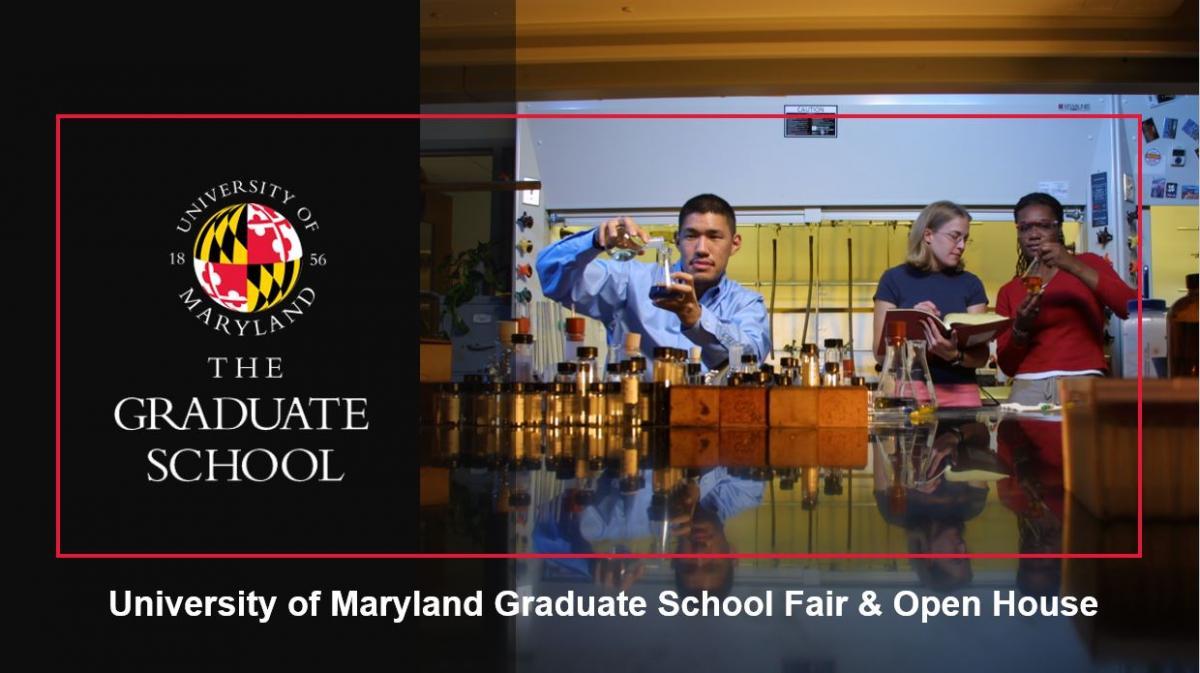 The University of Maryland cordially invites all undergraduate students from all fields and disciplines and from any institution to participate in a FREE week-long virtual graduate school fair and open house from September 21 through 25, 2020 (dates and times of sessions vary, see full schedule below). 
All sessions are listed below with dates/times, descriptions, and registration links.
Please share this announcement widely with your colleagues, scholars, and anyone interested in graduate study at University of Maryland.
What can I get out of attending a free Virtual UMD Graduate School Fair & Open House?
Connect with dozens of UMD faculty, staff, and graduate students over a full week of virtual sessions.
Get answers to your questions about graduate school.
Learn about application deadlines, degree options, funding, future career prospects, and much more.
Network directly with admissions representatives and directors and coordinators of graduate study.
Explore dozens of graduate programs and more.
All sessions are Eastern Standard Time, and all students are required to register for these free workshops and sessions. 
Register for as many sessions as you would like to attend by clicking on the session title. 
Please register for each session separately.
To register, click on the link for any (or all) of the sessions that interest you. After registering, you will receive a confirmation email containing information about joining the session.
Contact The Graduate School with any questions or concerns:
| TIME | SPEAKER | TOPIC | INFORMATION |
| --- | --- | --- | --- |
| 10:00-11:00 am | Christopher Pérez, Director OGDI | Fee Waiver Information, Eligibility, and Requests | Learn how to effectively request an application fee waiver and speak directly with Office of Graduate Diversity and Inclusion Director Christopher Pérez. |
| 11:00-11:30 am | Leslie Pick, Professor & Chair and Jeff Shultz, Associate Professor & Director of Graduate Studies, Department of Entomology | Graduate Study in Entomology | Information session on the Entomology graduate program (MS and PhD) and the application/admissions process. There will be a Q&A session following the presentation. |
| 11:00-12:00 pm | Linda Macri, Director, Graduate School Writing Center | Writing an Effective Personal Statement | This workshop, part of the Univeristy of Maryland Graduate School Fair and Open House, is an opportunity for students to get feedback on their graduate school personal statements, an integral element in a strong application package. Registered students will receive a link to a brief video about writing an effective personal statement that they can watch before joining this session. |
| 11:00-12:00 pm | Christopher Pérez, Director OGDI | Developing a Competitive Application | Graduate applications cannot just be good, they must be competitive. Learn about how to approach your graduate application, create a timeline, and speak with Director in The Office of Graduate Diversity and Inclusion Christopher Pérez in this session to help you develop a competitive application. |
| 11:00-12:00 pm | Michael Goodhart - Assoc. Director Cohort Programs, School of Public Policy | A Degree for Today and Tomorrow's Challenges - A Master's Degree in Public Administration | Learn the art of public administration and government management and establish yourself as an effective and impactful public sector leader. |
| 12:00-1:00 pm | Stephen Nkansah-Amankra, Online MPH, Behavioral and Community Health | Online Learning techniques in the era of COVID 19 | Dr. Stephen Nkansah-Amankra, Graduate Director of the Online MPH, Behavioral and Community Health will discuss the topic "Online Learning techniques in the era of COVID 19 " |
| 1:00-2:00 pm | Christopher Pérez, Director OGDI | Needs Assessment and Support Services at UMD | Being successful in graduate school requires more than just a good funding package and mentors. This session will help you understand the needs of graduate students, support services at UMD, and will help you develop a "needs assessment" plan to help you be successful as a graduate student. |
| 2:00-2:45 pm | Susan Martin, Program Director, University Career Center | Resumes and CVs That Impress Graduate Admissions Committees | Learn how to best showcase your qualifications and experiences on your CV for your graduate school application. |
| 3:00-4:00 pm | Edgar Perez and Daniel Serrano | Meet the UMD SACNAS Chapter | Come learn about the UMD SACNAS (Society for Advancement of Chicanos/Hispanics and Native Americans in Science) chapter, our past and future initiatives, and how to join. We will also showcase other diversity initiatives and resources at UMD. Part of the session will include Q&A and social interaction between participants. |
| 4:00-5:00pm | Brit Saksvig and Lanna Duarte, SPH Graduate Admissions, Stephen Nkansah-Amankra, Online MPH, Behavioral and Community Health | School of Public Health Graduate Programs | This event is structured as a 15 minutes information session followed by a Q&A to answer questions about graduate public health programs and the admissions process to the University of Maryland School of Public Health. |
| TIME | SPEAKER | TOPIC | INFORMATION |
| --- | --- | --- | --- |
| 10:00-11:00 am | Emily Irwin, Program Manager for Graduate Studies, Electrical and Computer Engineering Department | MS and PhD in Electrical and Computer Engineering | Our department will offer a brief presentation. on the Electrical and Computer Engineering MS/PhD programs and the application requirements. There will be time for Q&A following the session. |
| 10:00-11:00 am | Kristen Bergery, Assistant Director Master of Science Programs | Geospatial Information Sciences (GIS) and Geospatial Intelligence (GEOINT) Master of Science Degree Programs | This is a 15-20 minute information session followed by a Q&A. Students can ask admissions questions regarding GIS and GEOINT MS degree programs. |
| 10:00-11:00 am | Christopher Pérez, Director OGDI | Developing a Competitive Application | Graduate applications cannot just be good, they must be competitive. Learn about how to approach your graduate application, create a timeline, and speak with Director in The Office of Graduate Diversity and Inclusion Christopher Pérez in this session to help you develop a competitive application. |
| 10:30-11:00 am | Robyn Kotzker, Program Director, Office of Funding Opportunities, The Graduate School | Information about Funding Graduate Education | Graduate students are always looking for ways to fund their graduate education. This session will provide information about assistantships, internal UMD funding opportunities, and how to search for external funding opportunities. |
| 11:00-12:00 pm | Megan Petry, Graduate Program Manager, Department of Mechanical Engineering | Mechanical & Reliability Engineering Graduate Program Information Session | This is an information session on the Mechanical and Reliability Engineering graduate programs (MS and PhD) and the application/admissions process. There will be a Q&A session following the presentation. |
| 11:00-12:00 pm | Theodore Caruthers, School of Public Policy Career Services | Master's Degrees in Public Policy and Public Administration: They're not just for government workers! | Graduates of the School of Public Policy go on to work in all sectors, including nonprofit, private, government at all levels, and international organizations. Theo Caruthers will dispel some misconceptions about opportunities in public sevice and educate you on how you can put your problem solving abilities toward society's greatest challenges. |
| 11:00-12:00 pm | Dr. Gary Coleman, Director of Plant Science; Dr. Shirley Micallef, Chair of the Admissions & Examination Committee | MS and PhD in Plant Science | Join us to learn more about our Plant Science graduate program in which students are advised and mentored by our world-class faculty recognized for their contributions to Plant Science. The PLSC graduate program provides opportunities for students to receive training and conduct research in a wide range of areas that include Agronomy, Cell Biology, Genetics and Genomics, Molecular Biology, Physiology, Pathology, Food Safety and Security, and Conservation Biology and Ecology, including agroecology. |
| 12:00-2:00 pm | Brit Saksvig and Lanna Duarte, SPH Graduate Admissions | School of Public Health Graduate Programs | Join the University of Maryland School of Public Health and at the This is Public Health Mini Fair to learn about our graduate programs and interact with the graduate directors from our various departments. |
| 12:30-1:30 pm | Christopher Pérez, Director OGDI | For McNair Scholars - McNair Graduate Fellowship | Learn about the McNair Graduate Fellowship, best practices to get nominated, and the Society of McNair Fellows at University of Maryland. |
| 1:00-2:00 pm | Caitlin Gover, Coordinator, Maryland Applied Graduate Engineering | Professional Master of Engineering Graduate Programs (non-thesis only) | The Master of Engineering and Graduate Certificate in Engineering programs are coursework-based graduate engineering programs that do not require a thesis. There will be a 20 minute presentation on the programs and application process followed by a Q&A session. |
| 1:30-2:00 pm | Leslie Pick, Professor & Chair and Jeff Shultz, Associate Professor & Director of Graduate Studies , Department of Entomology | Graduate Study in Entomology | Information session on the Entomology graduate program (MS and PhD) and the application/admissions process. There will be a Q&A session following the presentation. |
| 2:00-3:00 pm | Christopher Pérez, Director OGDI | Needs Assessment and Support Services at UMD | Being successful in graduate school requires more than just a good funding package and mentors. This session will help you understand the needs of graduate students, support services at UMD, and will help you develop a "needs assessment" plan to help you be successful as a graduate student. |
| 2:00-3:00 pm | Anna Damm, Assistant Director of Graduate Student Services, Civil and Environmental Engineering | MS and PhD in Civil & Environmental Engineering | This is an information session on the Civil and Environmental Engineering graduate programs (MS and PhD) and the application/admissions process. There will be a 20-minute presentation followed by a Q&A session. |
| 2:00-3:00 pm | Michael Goodhart - Assoc. Director Cohort Programs, School of Public Policy | A Degree for Today and Tomorrow's Challenges - A Master's Degree in Public Administration | Learn the art of public administration and government management and establish yourself as an effective and impactful public sector leader. |
| 2:30-3:15 pm | Zephaniah Bartie | MCERT Information Session | This is an information session on the College of Education's one-year Masters Certification Program (MCERT). There will be a Q&A session following the presentation. If students are interested in a preliminary review of their transcript please send an unofficial copy to ed-advising@umd.edu at least two weeks prior to the Information Session they plan on attending and be sure to list the content area they are planning to pursue. |
| 3:00-4:00 pm | Christina Getrich and Nadine Dangerfield, Director of Graduate Studies and Assistant Director of Graduate Studies, Anthropology Department | Anthropology Graduate Programs | Learn about the graduate programs in anthropology at UMD (PhD, MAA, MAA/MHP, MPS (CHRM)), as well as general information on graduate training and career paths in anthropology. The Director of Graduate Studies (Dr. Christina Getrich) and the Assistant Director of Graduate Studies (Nadine Dangerfield) will be available to answer your questions. |
| 3:00-4:00 pm | Christopher Ellis, Director of Landscape Architecture | Urban Design, Ecological Design, Community Design and Creative Design: Exploring Career Pathways in Landscape Architecture | If you want to restore natural ecosystems, improve the quality of life for urban communities, or express your creative ideas through urban design, then Landscape Architecture can set you on a career path to reach these exciting goals. Learn what a design career in landscape architecture is all about, why licensing is important, and the great things our alumni are doing. |
| 4:00-5:00 pm | Lester Andrist, Program Director of MPS in Public Safety Leadership and Administration | Professional Master's in Public Safety Leadership and Administration - Information Session | This is an information session about the Professional Master's program in Public Safety Leadership and Administration (PLA), developed jointly by the College of Behavioral and Social Sciences and the University of Maryland Francis King Carey School of Law. There will be a 15-minute presentation followed by a Q&A session. |
| 4:00-5:00 pm | Blessing Enekwe - Program Director, Office of Postdoctoral Affairs | How Mentoring Can Make a Difference | This will be an interactive session with the fellows from the President's Postdoctoral Fellowship Program. Learn more about how mentoring can make a difference in your graduate career, including discussing: what are the most important elements of mentoring graduate students should be considering and why? Panelists include: Dr. Tamanika Ferguson, Dr. Mojhgan Haghnegahdar, Dr. Katherine Joyner, and Dr. Gurneet Sangha |
| TIME | SPEAKER | TOPIC | INFORMATION |
| --- | --- | --- | --- |
| 9:00-10:00 am | Christopher Pérez, Director OGDI | Needs Assessment and Support Services | Being successful in graduate school requires more than just a good funding package and mentors. This session will help you understand the needs of graduate students, support services at UMD, and will help you develop a "needs assessment" plan to help you be successful as a graduate student. |
| 10:00-11:00 am | Christina Getrich and Nadine Dangerfield, Director of Graduate Studies and Assistant Director of Graduate Studies, Anthropology Department | Anthropology Graduate Programs | Learn about the graduate programs in anthropology at UMD (PhD, MAA, MAA/MHP, MPS (CHRM)), as well as general information on graduate training and career paths in anthropology. The Director of Graduate Studies (Dr. Christina Getrich) and the Assistant Director of Graduate Studies (Nadine Dangerfield) will be available to answer your questions. |
| 11:00-12:00 pm | Carol Keefer, Professor, Animal & Avian Sciences | What to Expect - Obtaining a Graduate Degree in Animal Sciences | Graduate School is very different from undergraduate school. Students entering a research-oriented graduate degree program often do not know what to expect. This session will provide information on what to expect and should help a student decide whether a research program is right for them. |
| 12:00-1:00 pm | Brit Saksvig and Lanna Duarte, SPH Graduate Admissions | School of Public Health Graduate Programs | This event is structured as a 15 minutes information session followed by a Q&A. SPH admissions team will answer questions about graduate public health programs and the admissions process to the University of Maryland School of Public Health. |
| 1:00-2:00 pm | Negin Fouladi, Associate Clinical Professor and Director, Health Policy and Management | Health Policy and Management Online Programs: MPH-Practice and Policy, Master of Health Administration, Certificate in Principles of Public Health | This event is structured as a 15 minutes information session followed by a Q&A. Graduate Director Dr. Negin Fouladi will answer questions about MPH-Practice and Policy [MPH-PHPP], Master of Health Administration [MHA], Certificate in Principles of Public Health [CPH]) and admissions criteria. |
| 1:00-2:00 pm | Christopher Pérez, Director OGDI | Developing a Competitive Application | Graduate applications cannot just be good, they must be competitive. Learn about how to approach your graduate application, create a timeline, and speak with Director in The Office of Graduate Diversity and Inclusion Christopher Pérez in this session to help you develop a competitive application. |
| 1:00-2:00 pm | Taryn Faulkner, Director of Admissions, School of Public Policy | School of Public Policy Graduate Programs | Our master's programs allow you to develop the skills and expertise needed to turn your passion and ideas into real-world impact. With a focus on experiential, hands-on learning, coupled with a strong foundation in critical-thinking, decision-making and leadership skills, we prepare you for a career tackling policy challenges at all levels and across government, nonprofits, international organizations and the private sector. |
| 2:00-3:00 pm | Melvin Seale, Assistant Clinical Professor, Health Policy and Management | Department of Health Policy & Management On-Campus Programs: Master of Health Administration, Master of Public Health in Health Equity, Master of Public Health in Health Policy & Analysis, and Master of Health Administration | This event is structured as a 15 minute information session followed by a Q & A. Current graduate students will also be present. Department of Health Policy & Management On-Campus Programs: Master of Health Administration, Master of Public Health in Health Equity, Master of Public Health in Health Policy & Analysis, and Master of Health Administration |
| 2:00-3:00 pm | Christopher Pérez, Director OGDI | Fee Waiver Information, Eligibility, and Requests | Learn how to effectively request an application fee waiver and speak directly with Office of Graduate Diversity and Inclusion Director Christopher Pérez. |
| 3:00-4:00 pm | Susan Martin, Program Director, University Career Center | Becoming Career Ready - UMD Career Services | A graduate degree builds highly marketable skills and leads to greater career opportunities. This session will show you how UMD's career services offices are here to support you. Learn more about how we support graduate students explore career options, expand professional networks and land great jobs upon graduation. |
| 4:00-5:00pm | Paul Turner, Associate Professor, Maryland Institute for Applied Environmental Health | Environmental Health Graduate Programs | This event is structured as a 15 minutes information session followed by a Q&A. SPH admissions team and Graduate Director Dr. Paul Turner will answer questions about Environmental Health Programs and the admissions process to the University of Maryland School of Public Health. |
| TIME | SPEAKER | TOPIC | INFORMATION |
| --- | --- | --- | --- |
| 9:00-10:00 am | Christopher Pérez, Director OGDI | Needs Assessment and Support Services at UMD | Being successful in graduate school requires more than just a good funding package and mentors. This session will help you understand the needs of graduate students, support services at UMD, and will help you develop a "needs assessment" plan to help you be successful as a graduate student. |
| 10:00-11:00 am | Linda Macri, Director, Graduate School Writing Center | Writing an Effective Personal Statement | This workshop, part of the University of Maryland Graduate School Fair and Open House, is an opportunity for students to get feedback on their graduate school personal statements, an integral element in a strong application package. Registered students will receive a link to a brief video about writing an effective personal statement that they can watch before joining this session. |
| 10:30-11:00 am | Jeffrey W. Herrmann, Professor, Director, Systems Engineering Graduate Program | Systems Engineering Graduate Programs | This is an information session about the Systems Engineering graduate programs at the University of Maryland. This session will focus on the Master's of Science program that the Institute for Systems Research administers. |
| 11:00-11:30 am | Donna Hammer, Director of Student and Education Services and Josiland Chambers, Graduate Program Coordinator | Information Session on the Graduate Program in Physics | This is an information session about the PhD program in the Department of Physics and the application process. There will be a Q & A session following the presentation. |
| 11:00-12:00 pm | Eric Haag, Professor of Biology | Finding the Right Program & Advisor | This session will explain successful strategies for identifying, gaining admission to, and thriving in graduate programs in biology and related fields. Prof. Haag is the Director of the Biological Sciences Graduate Program at the Univ. of Maryland, College Park. |
| 11:00-12:00 pm | Caitlin Gover, Coordinator, Maryland Applied Graduate Engineering | Professional Master of Engineering Graduate Programs (non-thesis only) | The Master of Engineering and Graduate Certificate in Engineering programs are coursework-based graduate engineering programs that do not require a thesis. There will be a 20 minute presentation on the programs and application process followed by a Q&A session. |
| 12:00-1:00 pm | Danielle Koonce, Doctoral Student Genevieve D'Cruz, Doctoral Student | Making the Most of Graduate School When You are One of the "Only" Among Many | This panel allows prospective graduate students of color to ask questions and learn from current graduate students of color on how to successfully navigate being the only or one of the few within their graduate programs. |
| 1:00-1:30 pm | Dan Gruner, Associate Professor, Department of Entomology | NSF Graduate Research Fellowship Program | Information session on The NSF Graduate Research Fellowship Program (GRFP) and application process. GRFP helps ensure the vitality of the human resource base of science and engineering in the United States and reinforces its diversity. The program recognizes and supports outstanding graduate students in NSF-supported science, technology, engineering, and mathematics disciplines who are pursuing research-based master's and doctoral degrees at accredited United States institutions. |
| 1:00-2:00 pm | Bill Churma, Associate Director, Fischell Department of Bioengineering | Make an Impact with a Graduate Degree in Bioengineering | This session will present the graduate program opportunities (MS, PhD, dual degrees with UM School of Medicine) and application process within the Fischell Department of Bioengineering. Ample time will be left for Q&A from participants. |
| 1:30-2:00 pm | Robyn Kotzker, Program Director, Office of Funding Opportunities, The Graduate SchooL | Information about Funding Graduate Education | Graduate students are always looking for ways to fund their graduate education. This session will provide information about assistantships, internal UMD funding opportunities, and how to search for external funding opportunities. |
| 2:00-3:00 pm | Christopher Pérez, Director OGDI | Developing a Competitive Application | Graduate applications cannot just be good, they must be competitive. Learn about how to approach your graduate application, create a timeline, and speak with Director in The Office of Graduate Diversity and Inclusion Christopher Pérez in this session to help you develop a competitive application. |
| 2:00-3:00 pm | Taryn Faulkner, Director of Admissions, School of Public Policy | School of Public Policy Graduate Programs | Our master's programs allow you to develop the skills and expertise needed to turn your passion and ideas into real-world impact. With a focus on experiential, hands-on learning, coupled with a strong foundation in critical-thinking, decision-making and leadership skills, we prepare you for a career tackling policy challenges at all levels and across government, nonprofits, international organizations and the private sector. |
| 2:00-3:00 pm | Jill Jacobson, Program Director for School Psychology and Kelsey McCurdy Graduate Assistant | Pursuing a Career and Graduate Training in School Psychology | This is an information session about the field of school psychology as well as options for graduate training to become a school psychologist. We will also share information about how to strengthen applications to school psychology graduate training programs. |
| 3:00-4:00 pm | Christopher Pérez, Director OGDI | Fee Waiver Information, Eligibility, and Requests | Learn how to effectively request an application fee waiver and speak directly with Office of Graduate Diversity and Inclusion Director Christopher Pérez. |
| TIME | SPEAKER | TOPIC | INFORMATION |
| --- | --- | --- | --- |
| 9:30-10:30 am | Christopher Pérez, Director OGDI | For McNair Scholars - McNair Graduate Fellowship | Learn about the McNair Graduate Fellowship, best practices to get nominated, and the Society of McNair Fellows at University of Maryland. |
| 10:00-11:00 am | Brit Saksvig and Lanna Duarte, SPH Graduate Admissions | School of Public Health Graduate Programs | This event is structured as a 15 minutes information session followed by a Q&A. SPH admissions team will answer questions about graduate public health programs and the admissions process to the University of Maryland School of Public Health. |
| 10:30-11:30 am | Jeff Waters, Director, College of Information Studies | Graduate Programs in the iSchool | Come learn about the graduate programs in the College of Information Studies, including information about our Library & Information Science, Information Management, and HCI masters programs, as well as our doctoral program. Register now! |
| 10:30-11:30 am | M. Cristina Garcia, Jessica Sadler, & Sydney Han, Professors Karin Melnick,& Rodrigo Trevino, and Women in Math (WiM) President Stephanie Allen. | The Department of Mathematics, Statistics, and AMSC (Math, Stat, AMSC) | This is an information session for prospective graduate students interested in the Department of Mathematics. Representatives from the Math, Stat, and AMSC program will be presenting. Ample time will be provided for Q&As |
| 11:00-12:00 pm | Dr. Ichiro Takeuchi and Adaire Parker | Department of Materials Science and Engineering | This event will include an overview of our graduate programs in the Department of Materials Science and Engineering, followed by time for Q&A with current graduate students. |
| 11:00-12:00 pm | Christopher Pérez, Director OGDI | Needs Assessment and Support Services at UMD | Being successful in graduate school requires more than just a good funding package and mentors. This session will help you understand the needs of graduate students, support services at UMD, and will help you develop a "needs assessment" plan to help you be successful as a graduate student. |
| 12:00-1:00 pm | Dr. Kim J. Nickerson, Assistant Dean for Diversity, Equity, and Inclusion, BSOS | Graduate Programs in the College of Behavioral and Social Sciences | This event will be semi-structured. We will cover BSOS graduate training programs in general as well as general funding information. We will then open it up to Q & A and provide specific department contacts so audience members can gather more information for specific interests. For more information on BSOS graduate programs visit: https://go.umd.edu/BSOSGRAD |
| 1:00-2:00 pm | Carly Woods, Ari Perez Montes, and Brooke Phipps | Department of Communication Graduate Program | This event will include a 15 minute overview of our graduate program in the Department of Communication, followed by time for Q&A with faculty and current graduate students. |
| 1:00-2:00 pm | Taryn Faulkner, Director of Admissions, School of Public Policy | School of Public Policy Graduate Programs | Our master's programs allow you to develop the skills and expertise needed to turn your passion and ideas into real-world impact. With a focus on experiential, hands-on learning, coupled with a strong foundation in critical-thinking, decision-making and leadership skills, we prepare you for a career tackling policy challenges at all levels and across government, nonprofits, international organizations and the private sector. |
| 1:00-2:00 pm | HESP faculty: Samira Anderson, Nicole Nguyen, Yasmeen Faroqi-Shah, Eusabia Mont | Graduate Programs in Hearing and Speech Sciences: Speech Language Pathology, Audiology and PhD | This event will include a 15 minute overview of the three graduate programs in the Dept of Hearing and Speech Sciences, followed by time for Q&A with faculty. |
| 2:00-3:00 pm | Linda Macri, Director, Graduate School Writing Center | Writing an Effective Personal Statement | This workshop, part of the Univeristy of Maryland Graduate School Fair and Open House, is an opportunity for students to get feedback on their graduate school personal statements, an integral element in a strong application package. Registered students will receive a link to a brief video about writing an effective personal statement that they can watch before joining this session. |
| 2:00-3:00 pm | Brent Hernandez, Director of Student Services, Architecture, Planning and Preservation | Maryland's Built Environment Graduate Programs | Real Estate Development, Urban Planning, Architecture, Historic Preservation and many more. Join Maryland's Built Environment Graduate Program and learn how it provides a nationally-recognized education that meshes applied learning, community engagement, professional mentorship, real-world opportunities, and a supportive and diverse learning culture to ready students for sustainable and socially-minded practice. Let's reimagine the built environment! |
| 2:30-3:00 pm | Robyn Kotzker, Program Director, Office of Funding Opportunities, The Graduate School | Information about Funding Graduate Education | Graduate students are always looking for ways to fund their graduate education. This session will provide information about assistantships, internal UMD funding opportunities, and how to search for external funding opportunities. |
| 3:00-4:00 pm | Christopher Pérez, Director OGDI | Developing a Competitive Application | Graduate applications cannot just be good, they must be competitive. Learn about how to approach your graduate application, create a timeline, and speak with Director in The Office of Graduate Diversity and Inclusion Christopher Pérez in this session to help you develop a competitive application. |
| 4:00-5:00 pm | Moderator: Deanna Barath Panelists: Christina Sessoms, Danielle Koonce, Christina Conrad | Graduate Student Perspectives at UMD | Relax and chat with four graduate students. Hear us discuss life as a Masters/PhD student at UMD. Register now to submit a question for us to add to the discussion. |