UMD SREB Fellows and SREB Alumni Association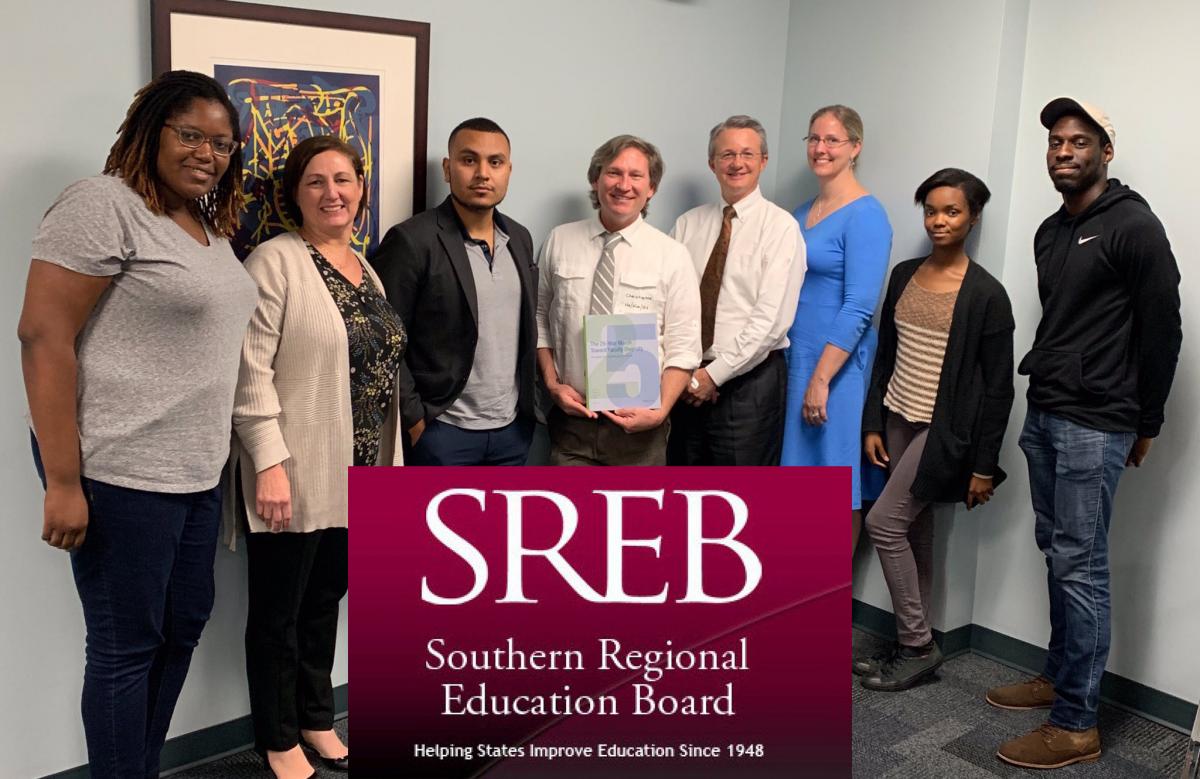 The Southern Regional Education Board (SREB) is a nonprofit, nonpartisan organization that works side-by-side with policymakers such as state legislators and education agency officials as they implement policies to help students achieve more, prepare students for college and careers, and boost college completion. One important SREB initiative is to increase faculty diversity by offering the SREB Doctoral Scholar Award. The goal of the Doctoral Scholars Award Program is to increase the number of under-represented students who earn doctorates and choose to become faculty at colleges and universities.
SREB Doctoral Scholars receive full-time graduate assistantship support, tuition remission, and payment of mandatory fees (spring and fall) for at least three years. SREB will cover the costs for the SREB Scholar to attend and participate in the Annual Institute on Teaching and Mentoring for each year the student is in the Doctoral Scholars program and will pay for the student's UMD advisor to attend this conference for one of those years.
Additionally, SREB Doctoral Scholars have access to professional & career development resources, writing retreats, and enrichment & community building opportunities working with Christopher ​Pérez, Director, The Office of Graduate Diversity and Inclusion.
More information about SREB and the Doctoral Scholar Award can be found at https://www.sreb.org/.  The Graduate School has agreed to become an Institutional Funding Partner for the SREB Doctoral Scholar Award. Eligible students must be nominated to the Graduate School by their program.


| Name | Department and College |
| --- | --- |
| Manouchka Jean-Gilles | AMST, ARHU |
| Lynne Gleiber | |
| Carolyn Reid | MEES, CMNS |
| Michelle Beadle Holder | SOCY, BSOS |
| Isis Semaj-Hall | ENGL, ARHU |
| Angel Miles | WMST ARHU |
| Janet Awokoya | EDCI, EDUC |
| Jesse Scott | AMST, ARHU |
| Deonne Minto | ENGL, ARHU |
| Christopher Whitt | GVPT, BSOS |
| Misun Dokko | ENGL, ARHU |
| Lorrie Frasure-Yokley | GVPT, BSOS |
| John Bullock | GVPT, BSOS |
| Simone Drake | ENGL, ARHU |
| Simon Thuo | AMSC, CMNS |
| Jeffrey Pegram | EDTL, EDUC |
| Dwight Williams | ENNU, ENGR |
| Sherry Scott | MATH, CMNS |
| Tasha Inniss | AMSC, CMNS |
| Cynthia King | COMM, ARHU |
| Portia Buchongo | SPHL |
| Karen Pearson | GEOL, BSOS |
| Veronica James | HIEP, EDUC |
| Yvonne Bramble | AMST, ARHU |
| Shakeera Walker | NACS, BSOS |
| Rodrigo Dominguez-Martinez | SOCY, BSOS |
| Natasha Williams | FMSC, SPHL |
| Lakeshia Watson | EPID, SPHL |
| Carlton Poindexter | ENST, AGNR |