UMD GEM Fellows and GEM Alumni Association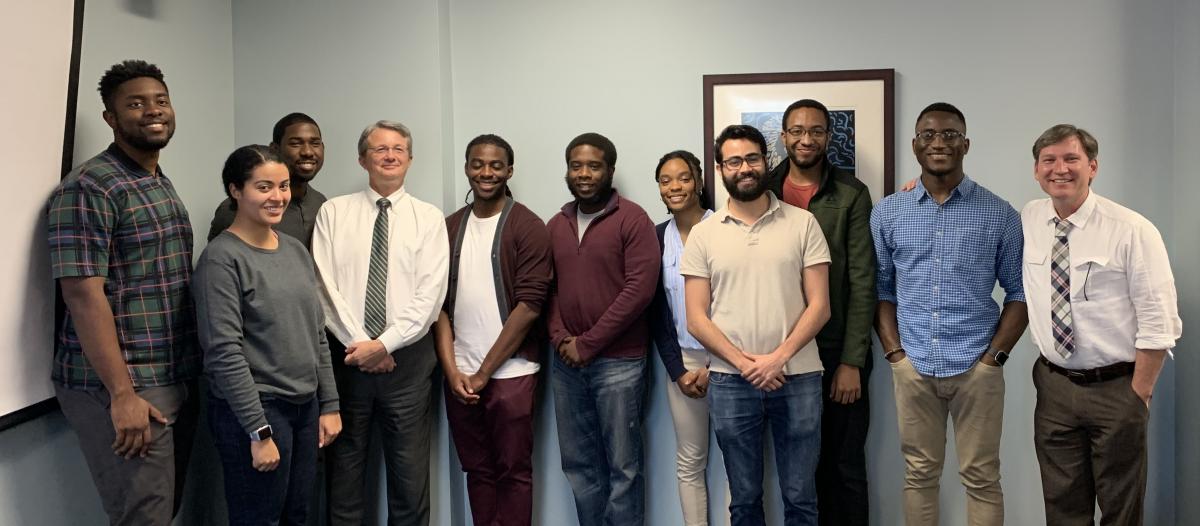 The mission of The National GEM Consortium is to enhance the value of the nation's human capital by increasing the participation of underrepresented groups (African Americans, American Indians, and Hispanic Americans) at the master's and doctoral levels in engineering and science.
The University of Maryland, in partnership with graduate STEM programs, The Office of Graduate Diversity and Inclusion (OGDI), and The Graduate School, is one of the 120+ GEM institutional members.  OGDI works closely with UMD programs to recruit GEM scholars into graduate programs.  
Once GEM Fellows enroll, they are invited to participate in National GEM Consortium activites and university-level activites some coordinated by OGDI Director, Christopher ​Pérez.  Programming for GEM Fellows include enrichment/community building, networking, professional & career development, and National GEM Consortium guest speakers including University of Maryland President, Dr. Darryll Pines, GEM i4 Director, Dr. Marquita Qualls, and UMD faculty, Dr. Andre Marshall.
GEM Fellows In the News 
Dr. Leopoldo Torres: A Fischell Department of Engineering Alumni Profile
The Bracero and the Bioengineer 
| Name | Employer | Program | Degree | Year |
| --- | --- | --- | --- | --- |
| Jeovane Slater-Taylor | University Fellowship | Computer Security | PhD | 2023 |
| Christopher Pagán | Space Systems | Engineering | Masters Fellowship | 2022 |
| James Jones | Energy Systems | Engineering | Masters Fellowship | 2022 |
| Jasmine Medlock | Data Analytics | Computer Science | Masters Fellowship | 2022 |
| Aisha Abdulkarimu | University Fellowship | Biology | PhD | 2021 |
| Anthony Jones | University Fellowship | Engineering | PhD | 2021 |
| Justin Peterkin | Condensed Matter Science | Physics | PhD | 2021 |
| Khalil Guy | University Fellowship | Applied Mathematics | PhD | 2021 |
| Marcus Bailey | Project Management | Engineering | Masters Fellowship | 2021 |
| Kelin West | Data Science | Computer Science | Masters Fellowship | 2020 |
| Trevian Jenkins | University Fellowship | Electrical Engineering | Masters Fellowship | 2020 |
| Jonathan Valverde Lizano | Amazon | Computer Science | Masters Fellowship | 2020 |
| Kelin West | University Fellowship | Data Science | Masters Fellowship | 2020 |
| Nehemiah Emaikwu | National Renewable Energy Laboratory | Mechanical Engineering | Ph.D. Engineering Fellowship | 2019 |
| Malcolm Moore | Associate Fellowship | Computer Science | Ph.D. Science Fellowship | 2019 |
| Sarah Robertson | Associate Fellowship | Bioengineering | Ph.D. Engineering Fellowship | 2019 |
| Anthony Thompson | Associate Fellowship | Mechanical Engineering | Ph.D. Engineering Fellowship | 2019 |
| Kendyl Waddell | Associate Fellowship | Chemical Engineering | Ph.D. Engineering Fellowship | 2019 |
| Steven Woolford | Associate Fellowship | Chemistry | Ph.D. Science Fellowship | 2019 |
| Micaela Everitt | Associate Fellowship | Biomedical Engineering | Ph.D. Engineering Fellowship | 2018 |
| Romanus Hutchins | Associate Fellowship | Bioengineering | Ph.D. Engineering Fellowship | 2018 |
| Zora Moore | Qualcomm, Inc. | Computer Science | Masters Fellowship | 2018 |
| Kofi Addo | Associate Fellowship | Mechanical Engineering | Ph.D. Engineering Fellowship | 2017 |
| Pierre Casco | Associate Fellowship | Applied Science (Other than Chemistry or Physics) | Ph.D. Science Fellowship | 2017 |
| Jonathan Guandique | Shell Oil Company | Applied Science (Other than Chemistry or Physics) | Masters Fellowship | 2017 |
| Alisa White | Associate Fellowship | Biomedical Engineering | Ph.D. Engineering Fellowship | 2017 |
| Ruben Acevedo | Associate Fellowship | Mechanical Engineering | Ph.D. Engineering Fellowship | 2016 |
| Ciara Lynton | MIT Lincoln Laboratory | Electrical Engineering | Ph.D. Engineering Fellowship | 2016 |
| Randi Taylor | Associate Fellow | Mechanical Engineering | Masters Fellowship | 2015 |
| Christa Pettie (Rogers) | Aerospace Corporation, The | Mechanical Engineering | Ph.D. Engineering Fellowship | 2014 |
| Leopoldo Torres | The National GEM Consortium | Biomedical Engineering | Ph.D. Engineering Fellowship | 2014 |
| Christa Pettie (Rogers) | Aerospace Corporation, The | Electrical Engineering | Masters Fellowship | 2013 |
| Alvin Grissom II | Oak Ridge National Laboratory | Computer Science | Ph.D. Science Fellowship | 2012 |
| Bianca Brandveen | Fermi National Accelerator Laboratory | Mechanical Engineering | Masters Fellowship | 2011 |
| James Lankford | MITRE Corporation, The | Aerospace | Masters Fellowship | 2011 |
| Luis Bravo | Sandia National Laboratories | Mechanical Engineering | Ph.D. Engineering Fellowship | 2009 |
| Jean-Pierre Rock | Argonne National Laboratory | Mechanical Engineering | Masters Fellowship | 2009 |
| Sean Wint | Lexmark International, Inc. | Electrical Engineering | Masters Fellowship | 2009 |
| Domonique Downing | DuPont | Chemistry | Ph.D. Science Fellowship | 2007 |
| Terrell Johnson | Brookhaven National Laboratory | Electrical Engineering | Ph.D. Engineering Fellowship | 2007 |
| Edward Lari | Educational Testing Service | INFORMATION MANAGEMENT | Masters Fellowship | 2004 |
| Dorethea Labogin | DuPont | Civil Engineering | Masters Fellowship | 2002 |
| Shelia Colbert Luke | Lucent Technologies | Mechanical Engineering | Ph.D. Engineering Fellowship | 2001 |
| Cyntrica Eaton | Eastman Kodak Company | Computer Science | Ph.D. Science Fellowship | 2001 |
| Orman Greaves | Cisco Systems | Computer Engineering | Masters Fellowship | 2001 |
| Summer Mitchell | MITRE Corporation, The | Computer Engineering | Masters Fellowship | 2001 |
| Cassie Thomas | Hewlett-Packard Company | Computer Science | Masters Fellowship | 2001 |
| Teddy Damour | Rohm & Haas Company | Chemical Engineering | Masters Fellowship | 2000 |
| Olugbenga Famodu | DuPont | Material Science & Engineering | Ph.D. Engineering Fellowship | 2000 |
| Ahlia Tillman | Goodyear Tire & Rubber Co | Electrical Engineering | Masters Fellowship | 2000 |
| David Anderson | DuPont | Chemical Engineering | Masters Fellowship | 1999 |
| William Howell | NASA | Mathematics | Ph.D. Science Fellowship | 1999 |
| Kamika Lawrence | COMSAT Laboratories | Computer Science | Masters Fellowship | 1999 |
| Kamika Lawrence Gorham | COMSAT Laboratories | Computer Science / Info Systems | Masters Fellowship | 1999 |
| Adenike Soyombo | Lockheed Martin Corporation | Electrical Engineering | Masters Fellowship | 1999 |
| Nekeisha Sweeney | Corning Incorporated | Chemical Engineering | Masters Fellowship | 1999 |
| Darryl Williams | Sandia National Laboratories | Chemical Engineering | Ph.D. Engineering Fellowship | 1999 |
| Melody Burch | Ford Motor Co. Product Development | Mechanical Engineering | Masters Fellowship | 1998 |
| Randolph Jacobs | Los Alamos National Laboratory | Material Science & Engineering | Masters Fellowship | 1998 |
| Triana Jones | Los Alamos National Laboratory | Chemical Engineering | Masters Fellowship | 1998 |
| Karen Carter | Merck & Company, Inc. | Chemical Engineering | Ph.D. Engineering Fellowship | 1997 |
| Tammara Combs | Eastman Kodak Company | Computer Science | Ph.D. Science Fellowship | 1997 |
| Ashley Doleman | Genetics Institute | Chemical Engineering | Masters Fellowship | 1997 |
| Chanda Harris | Fermi National Accelerator Laboratory | Computer Engineering | Masters Fellowship | 1997 |
| Candi Hudson, PhD | NASA SCHOLAR | Mechanical Engineering | Ph.D. Engineering Fellowship | 1997 |
| Derek Robinson | DuPont | Chemical Engineering | Masters Fellowship | 1997 |
| Norina Dixon | MITRE Corporation, The | Computer Science | Masters Fellowship | 1996 |
| Sylvia Francis | Kraft General Food | Chemical Engineering | Masters Fellowship | 1996 |
| Monique Johnson Marquardt | Oak Ridge National Laboratory | Mechanical Engineering | Masters Fellowship | 1996 |
| Jeffrey Morgan | Brookhaven National Laboratory | Mechanical Engineering | Masters Fellowship | 1996 |
| Nestor Flores | Argonne National Laboratory | Civil Engineering | Masters Fellowship | 1995 |
| Sigfrido Hernandez | Air Products & Chemicals, Inc. | Chemical Engineering | Masters Fellowship | 1995 |
| Angela Miller Taylor | COMSAT Laboratories | Electrical Engineering | Masters Fellowship | 1995 |
| Anthony White | Union Carbide Corporation | Chemical Engineering | Masters Fellowship | 1995 |
| Charles Winfrey | Oak Ridge National Laboratory | Physics | Masters Fellowship | 1995 |
| William Wyatt | Ford Motor Co. Product Development | Mechanical Engineering | Masters Fellowship | 1995 |
| Olivia Butler | MITRE Corporation, The | Computer Science | Masters Fellowship | 1994 |
| Giles Charleston | Brookhaven National Laboratory | Electrical Engineering | Masters Fellowship | 1994 |
| Marilyn Cordy | Motorola, Inc. | Electrical Engineering | Masters Fellowship | 1994 |
| Jason Harley | Merck & Company, Inc. | Mechanical Engineering | Masters Fellowship | 1994 |
| Justin Blount | DuPont | Chemical Engineering | Masters Fellowship | 1993 |
| Kisha Street | Mobil Oil Corporation | Electrical Engineering | Masters Fellowship | 1993 |
| Jerry Brown | BP America, Inc. | Chemical Engineering | Masters Fellowship | 1992 |
| Arthur Valentine | DuPont | Mechanical Engineering | Masters Fellowship | 1992 |
| Hope Alford Summerhill | IBM Corporation | Computer Science | Masters Fellowship | 1991 |
| Molly Bryson Dorsey | AT&T Bell Laboratories | Computer Science | Masters Fellowship | 1991 |
| Shawn Craig | DuPont | Mechanical Engineering | Masters Fellowship | 1991 |
| Sandra Delancy | Merck & Company, Inc. | Computer Science | Masters Fellowship | 1991 |
| Nelson Padua-Perez | Allied Signal Corporation | Computer Science | Ph.D. Science Fellowship | 1991 |
| Jacqueline Young | Corning Incorporated | Electrical Engineering | Masters Fellowship | 1990 |
| Jeffrey Chavis | Brookhaven National Laboratory | Electrical Engineering | Masters Fellowship | 1989 |
| Luis Jimenez | Pacific Northwest National Laboratory | Electrical Engineering | Masters Fellowship | 1989 |
| Edel Quinones | IBM Corporation | Electrical Engineering | Masters Fellowship | 1989 |
| Gerald Charles Jr | MITRE Corporation, The | Electrical Engineering | Masters Fellowship | 1987 |
| Perry Vessels | Johns Hopkins University Applied Physics Laboratory | Electrical Engineering | Masters Fellowship | 1985 |