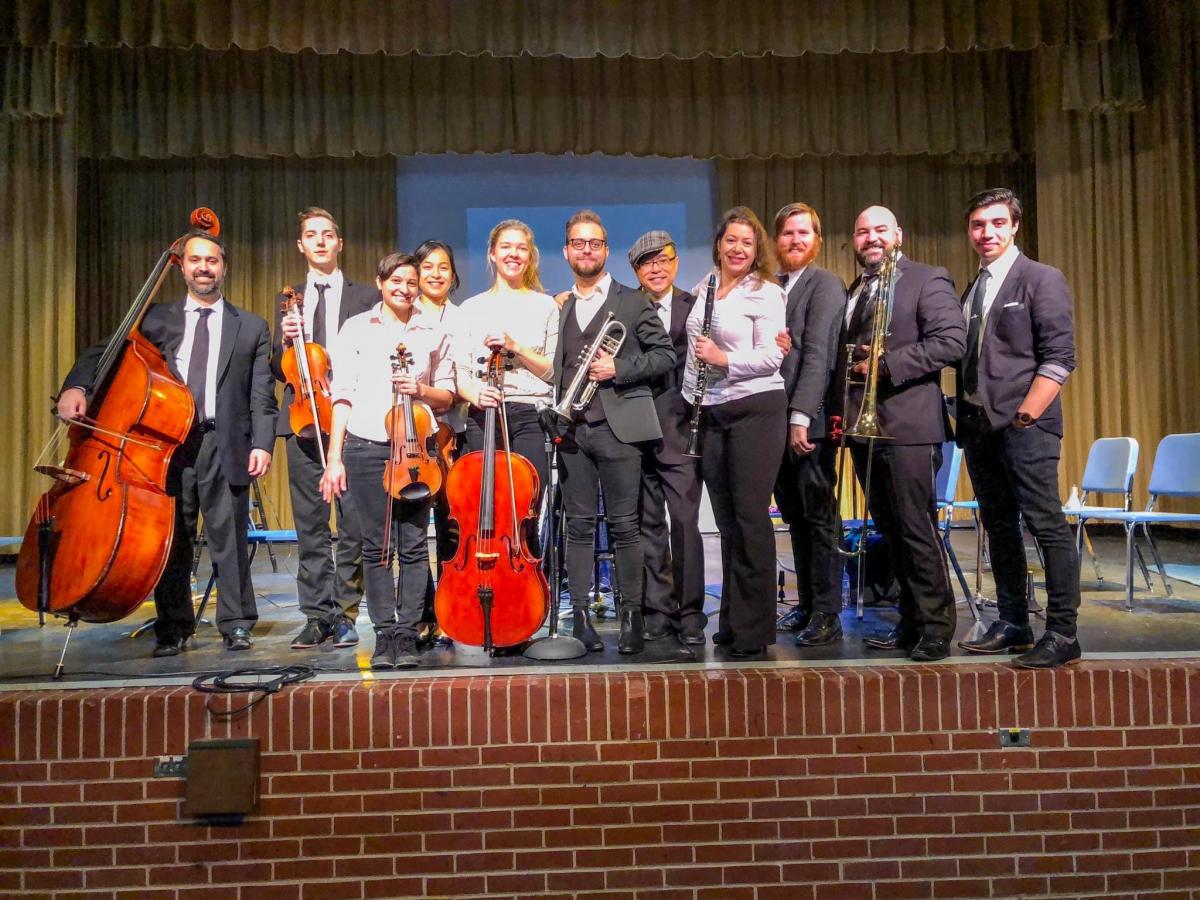 By Anna De Cheke Qualls and Ross McCool with contributions from Luke Spence
There are so many legendary stories that accompany wandering musicians--from the griots of Ancient Africa and the entertainers along the Silk Road to the jazz bands that played on the steamboats of the Mississippi. The modes of travel may have changed, but life on the road continues to be colorful and grueling. And no one knows this better than cornetists Ross McCool ('18 MM, Music) and current music doctoral student Luke Spence, members of the Peacherine Ragtime Society Orchestra. They recently returned from a 6-day whirlwind tour of the Midwest.
Peacherine is the brainchild of Andrew Greene ('13 BS, Economics). While at the University of Maryland, he began to recruit musicians, and by 2010 was performing for the public. The ever-growing group, which includes several graduate students and alumni, has since played at the Kennedy Center, the Library of Congress, the American Film Institute, and beyond. In addition to McCool and Spence, the graduate alumni musicians include: Paul Bagley (violin), Neil Brown (cornet), Laura Armstrong (clarinet), Shawn Alger (double bass), Sarah Eckman McIver (flute/piccolo), Corey Sansolo (trombone), and Jessica Albrecht (cello). The ensemble performs from Greene's library of over 15,000 original theater orchestrations from the 1880's through the 1940's, with most of the music dating between 1882 and 1930. It is one of the largest private collections of ragtime, theater, dance, and silent film music in the world. Peacherine just finished recording its fourth album, and its first music video.
On this particular trip, Peacherine was first slated to play at the Matthews Opera House in Spearfish, South Dakota. With a 3:30 A.M. start to the airport, McCool and Spence were on their way to Denver. Nothing felt as good as that first cup of cheap airport coffee, and budget breakfast.  In the terminal, they were handed a whole book of music which they immediately began studying to make some sense of the tricky (syncopated) rhythms. McCool and Spence also weren't able to use their regular trumpets-- Peacherine uses authentic 1919 Conn New Wonder Cornets. "They have a lovely and distinct sound but boy are they difficult to play! Let's just say I'm glad instrument manufacturing has improved in the last 100 years," says Spence.
The energy on the airplane was high--lots of good conversation among band members about the graduate experience at UMD's School of Music, and pedagogical tips, while trying not bump elbows with a complete stranger. Alger found himself unsuccessfully having to explain the phenomena of timezones to a disgruntled seatmate.
The roughly 400-mile drive to Spearfish took the minivans packed with people and instruments through the Rocky Mountains, Cheyenne, Wyoming, and the rolling hills of chilling western South Dakota. In between scraping ice off the inside of the van windows, there was a brief stop at Mount Rushmore. Throughout the journey, the troupe gravitated toward cheap food and lots of coffee, like Johann Sebastian Bach probably did while performing throughout the towns and villages of the Thuringian countryside. And just in case there was any doubt about the virtues of caffeine, Bach wrote the Coffee Cantata. But back to the subject at hand.
After 19 hours of travel, Peacherine arrived in Spearfish--a small city in the Black Hills, founded during the gold rush. Tired, cold, and in surprisingly good spirits, McCool and Spence unloaded their gear, and harnessed their remaining energy toward finding a place to eat, knowing that the first performance the next day was in the morning.
The day started with the load-in to the venue, a quick read of all the music, and then an early show for the area middle school. Throughout the following day, McCool, Spence and friends invaded a coffee shop near the Matthews Opera House. "It was our 'espressoasis' (trademark still pending)," recalls McCool. That night, the packed Matthews was treated to a smattering of ragtime-era hits like The Entertainer and Alexander's Ragtime Band, as well as three silent film comedies with historically accurate live accompaniment complete with sound effects. The applause was rousing and young ragtime enthusiasts lined up to obtain a signed copy of Peacherine's latest vinyl record. "As a classical trumpet player who makes most of his money freelancing with local orchestras, stepping into tour with a ragtime orchestra requires a level of focus and endurance that most orchestral players never have to encounter. The tricky syncopated melodies fly by at astronomical speeds and you are playing all the time. Orchestral trumpet players are used to a little thing called 'resting.' The trumpet is not the main solo voice in the orchestra and it is typically used for punctuation...so we have a lot of downtime during rehearsals and performances. That is definitely not the case for ragtime, where the trumpet/cornet is equally as important as the violin or flute," says Spence.
Through vast plains and rocky outcrops, the band next moved on to Scottsbluff, Nebraska. Spearfish set high standards for coffee, and to McCool's delight, another coffee shop emerged next to that night's event location, the Historic Midwest Theater. After performing at The Residence retirement community, Peacherine delivered another rousing performance that inspired the snow gods to lay five inches on the ground. The only complaint came from a man who wished he could have clapped louder and more. Resigned to the possibility of a blizzard, McCool, Spence and friends took refuge in a hot tub, experiencing probably one of the few moments of serenity the entire tour.
Days four and five were Peacherine's last two stops across two different time zones: Holdrege, Nebraska's new Tassel Center for Performing Arts and Oakley, Kansas' High School to a total of six performances in five days. "In Oakley, we burned off some of our pent-up energy with a game of basketball, some general physical activity, and a rather raucous rendition of the Star Spangled Banner by the Peacherine brass section," remembers McCool. That night, exhausted and grappling with the bittersweet feelings of the group's waning adventure, McCool and Spence collapsed at their hotel on the last night of the tour, knowing their return home would mirror the initial journey to Spearfish, except for the pitstop to buy vintage sweaters, and more coffee. "Ross and I were able to survive the tour by trading off first and second parts to give each other little breaks throughout the shows. The tactic, along with lots of soft long tones between shows and a fair amount of ibuprofen, seemed to work in our favor. Not only did we survive our first tour together, but we had an incredible amount of fun the whole way through," recalls Spence.
And this is just one of Peacherine's tours. In 2019-2020, they are slated to play in Maryland, Iowa, Kansas, Virginia, Illinois, Wyoming, California, Oregon, Wisconsin, North Carolina, South Carolina, Missouri, Texas, Louisiana, New York, and Ohio. "The main evolution for us has been getting better and better players, and of course expanding the programming from just ragtime concerts to silent film presentations with live orchestral accompaniment. We're fortunate to be able to pull from American music that hasn't been played in over 100 years, and it's great stuff. It's a nice change for the musicians to be playing [Gustav] Mahler one week and Scott Joplin the next," says founder Andrew Greene.
"It's been a privilege to perform and record with Peacherine over the years. So many highlights come to mind--performing the music of Mel Kaufman for his family at a gorgeous outdoor venue in Connecticut. Or playing the score to accompany Nosferatu for the first time, a legendary Halloween film. And recording Stars and Stripes Forever in a ragtime orchestration after over 15 years of playing it in a military band. I'm continually astounded by the energy, enthusiasm and hard work that Andrew Greene puts into this group to get it as far as it has come," says Sarah Eckman McIver ('10 DMA, Flute Performance).
(Photo Credits: Andrew Greene and Ross McCool)