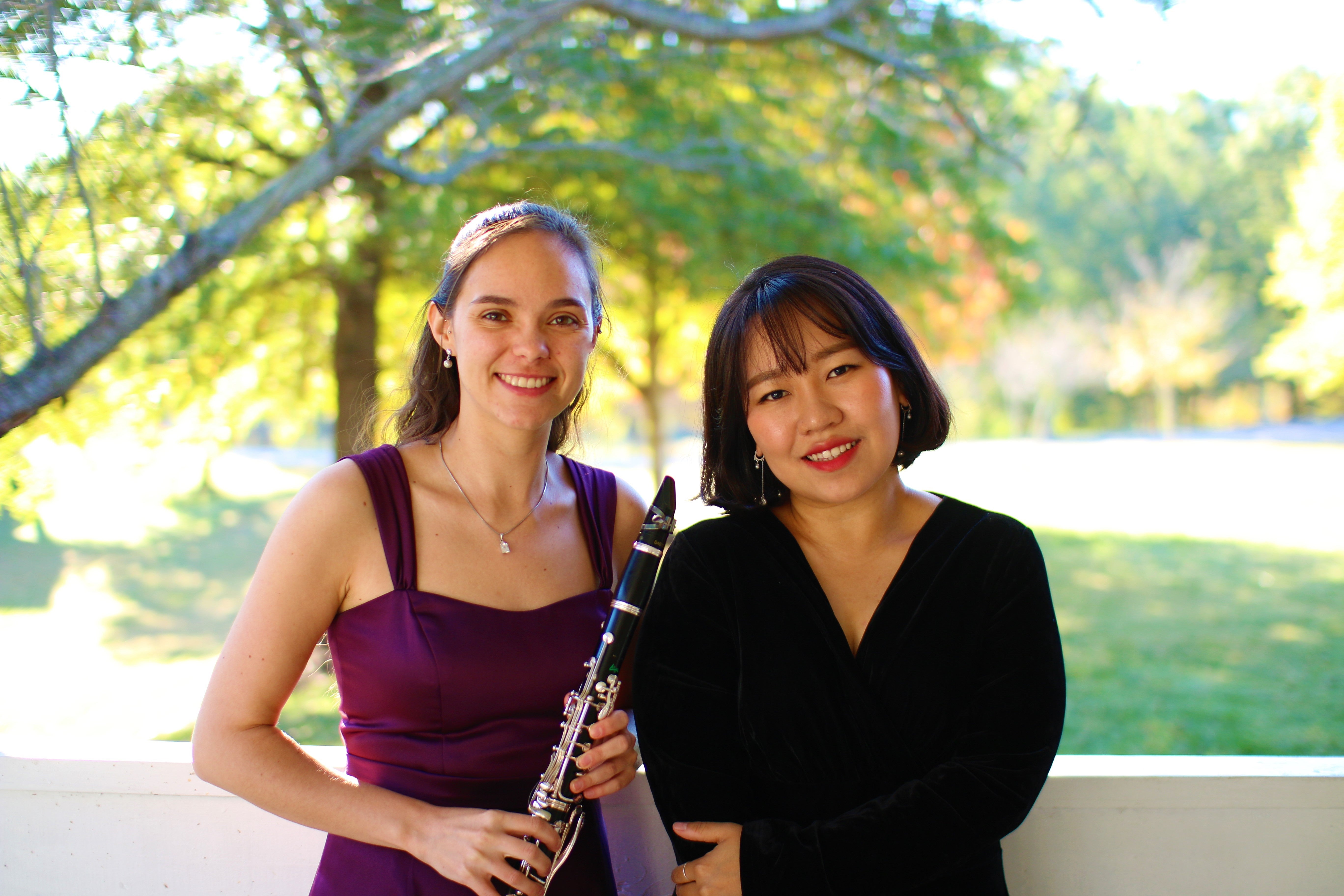 Ed. Note: Since the writing of this article, Natalie Groom, DMA, continues to live and make music for and with residents at Collington during the COVID-19 lockdown. While residents cannot come to campus to enjoy musical performances, the musicians have brought their community to the internet, both inside the community and out. "It is easy to feel like what we musicians are doing does not matter when we are not able to perform in front of an audience, rehearse, or teach or take in-person lessons for the foreseeable future, but I am telling you now that you are important," Groom wrote in the International Clarinet Association's newsletter. "You matter. The world appreciates what you do, and hopefully one positive result of this situation will be people realizing just how much they depend on the arts to entertain them, fill their time, and bring richness and peace to their lives." 
Visit facebook.com/CollingtonAIR for virtual concerts, lessons, and listening parties, and tune in this week for the "Junemas" halfway-to-Christmas celebration. 
By Anna De Cheke Qualls
Ieseul Yoen, originally from South Korea, and Natalie Groom, of Arkansas, never imagined that they would be Artists-in-Residence together at a retirement community in Maryland.
Yoen, a collaborative pianist, is a DMA student in the University of Maryland School of Music, and Groom, a clarinetist, received her DMA there this spring. Each applied for this program—a collaboration between the UMD School of Music and Collington Lifecare Community—last year. They were chosen as part of a rigorous application process with Collington's selection committee having the final say. Originally modeled on a similar partnership between the Johns Hopkins University's Peabody Institute and Springwell Senior Living, the residency program is now in its third year and has grown in reputation and influence.
Yoen comes from a family of musicians, and remembers spending many hours practicing the piano as a child before school and late into the night. Her musical experience was focus and intense, from the age of four. At 16, she won a scholarship to attend an arts school in the United States, where the seeds of collaborative piano were planted.
Groom started playing the clarinet at about 11 years old. Her small Arkansas school did not have a comprehensive music program, but participating in Arkansas' All Region and All State bands throughout high school exposed her to a broader musical environment, and prompted her to consider music as her college major.
Yoen and Groom's lives converged last August, when they moved into individual apartments on Collington's Bowie campus, only 30 minutes from College Park. As Artists-in-Residence, they received a furnished studio apartment with utilities included and all meals from Collington's fine dining facilities, in exchange for enhancing Collington's music program and engaging in the broader life of the retirement community.
Both women had performed at Collington in the past and knew some of the program's alums. They were drawn to the opportunity to live with a different generation and gain experience building and delivering a music curriculum. The generous financial incentive was also very welcome.
Groom describes herself as an old soul, who has embraced Collington's culture with gratitude.
"I love living with people who have lived some life, people who have their priorities in line. It's so nice to sit and have dinner with folks here, to listen to their stories and wisdom," she said. "Everyone here loves and respects each other, everybody knows each other's name, and everyone says 'hello' to each other in the hallway. This is their family, a close community, and I feel fortunate that they have adopted us while we are here."
Living with older adults was akin to Yoen's multigenerational upbringing in Korea. As a child, she lived for a time with her grandmother.
"I very much missed a grandparent figure near me," Yoen said. "I came to the U.S. by myself 14 years ago, and that attracted me to this community. I get a lot of inspiration from the residents, learning and talking with them. They faced so many different things in life, and listening to them feels very familiar, like my time with my grandmother."
As we walked around Collington, Groom and Yoen were clearly giving a tour of their home.  We passed the library that features publications by Collington residents, the flower shop that creates fresh daily arrangements, hair salon, auditorium with live streaming capabilities, café, and of course the bar, where folks can enjoy happy hour with live music. We heard stories of the furniture in common spaces carefully arranged by one of Collington's 30 committees. The community has its own magazine, a Jazz band called the CollingKatz, a choir, countless other affinity groups—and an activity calendar that is abundant, to say the least.
Yoen and Groom had to create a music program that offered something distinctive for an already vibrant and knowledgeable community. They experimented with event scheduling, timing, length, location, and subject matter.
Knowing that Collington has many educated music enthusiasts and experts, including retired professional musicians, Groom and Yoen stuck to three key principles. They recognized that the community wanted new and engaging learning experiences, that residents desire a personal connection with the UMD program offerings, and there must be great music.
"With our programming, it isn't just about putting on a concert," Groom said. "People want to have an experience and a connection to it. Every time, the feedback is 'I loved the music but I really enjoyed how you described that composer in this way', or 'I loved how you demonstrated that.' 'I didn't even know the clarinet could sound like that or the piano had that strange technique.' We do a lot of talking about the composers, the pieces, and the techniques we use."
Marilyn Haskell, a Collington resident who is heavily involved in the music program, agrees that the program has intensified after a challenging first year, with more music programming and more students from the University of Maryland. 
"This year we are getting more musicians regularly," she said. "Chamber music, especially, and other groups of students.  Natalie and Ieseul have more students interested than we can accommodate. We are absolutely thrilled."
Engagement remains a focus for Groom and Yoen. They would like to see more UMD students going to Collington, and more residents coming to College Park. Logistics, values, event saturation and participant focus provide challenges for both program partners.
"Collington has a trip planning committee and we try to get busing for the residents," said Yoen. "Our concerts at the UMD School of Music are at 8 P.M., so getting people to come [to campus] is difficult. On the other hand, we offer the UMD performers a recording of their concerts, which is really important."
Groom says it is important to show UMD students the value of visiting Collington, despite its distance from campus. They are trying to incorporate Collington outreach into UMD music courses, such as chamber music and upcoming violin and piano studio recitals.
"They have to give the recital anyway, so then let's do it here," Groom said. "At UMD, you go and hear fabulous recitals where there are 7-8 people in the audience.  Come to Collington and I guarantee there will be 40-45 people to hear you."
The day we visited Collington, the Patapsco Winds ensemble performed at lunch just outside the popular café for more than 30 residents.  Just last week, over 130 people attended another on-site UMD concert.
Behind the scenes, Yoen and Groom monitored recording equipment and chatted with residents. There is a sense of mutual respect, care, and community. It does not escape either of the two women that they too have benefitted from this program.
Among various career paths—including university teaching, playing in a professional orchestra, and even business—Groom is considering arts administration, an option her Collington experience has reinforced.
"That's where I see myself ending up in reality, just because it can be full-time with benefits which would leave time for freelancing and teaching," Groom said.
For Yoen, Collington offers a networking opportunity and a support system.  Among her many connections—including many individuals and couples with whom she has developed a close relationship—she was thrilled to meet a South Korean resident who also came to the States as a twentysomething.
After their residency is completed this summer, Yoen and Groom's paths will diverge, but they and the Collington residents will feel the lasting impact of this transformational experience.
Mary F. McCutchan, founder of the Artist-in-Residence program at Collington, always hoped this would be the case.
"Not only do they perform for us, they live with us and interact with us on a daily basis," McCutchan said. "They work so hard to achieve perfection in their art, and they share this with us. It's a great gift they are giving us, and we, in turn, give them our attention."
(Photo credits: PC Patrick Lill and Anna De Cheke Qualls)