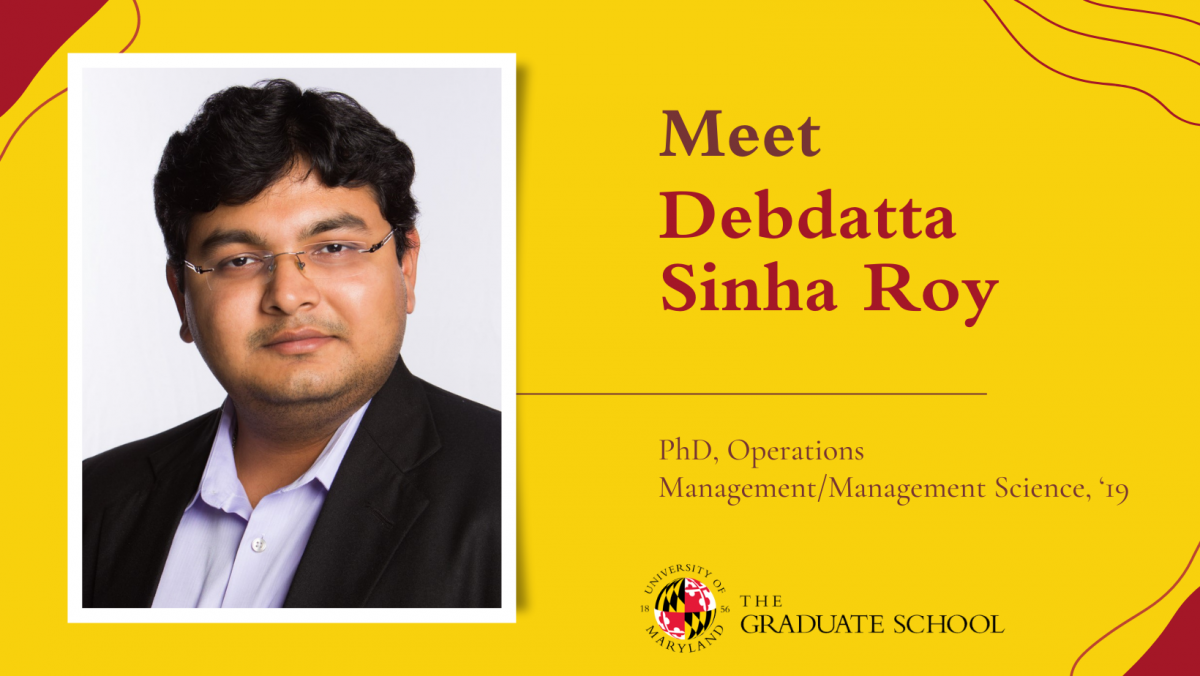 By Helen Mamo
Debdatta Sinha Roy, PhD, Operations Management/Management Science, '19. There are always lessons to be learned from the experiences of UMD alumni—like Debdatta Sinha Roy, an international graduate student who believes he grew as a scholar due to the community and support he received at UMD.
During his time at UMD, Debdatta was a doctoral student researcher in Operations Research, Optimization, Mathematical Programming, Statistical Machine Learning, and Big Data Analytics at the Department of Decision, Operations & Information Technologies. He participated in events like the 3MT Competition and received various awards and fellowship opportunities.
Since graduating in 2019, Debdatta has found satisfying and impactful work in the U.S working in the fields of supply chain, logistics, transportation, and retail. Currently, he is a Senior Research Scientist at Oracle.
We asked Debdatta a few questions about his time at UMD and his professional journey that led him to where he is today. Here is what he had to say:
What are some of your favorite memories about studying at UMD/being a part of this community? 
As a Ph.D. student at UMD, the community and the environment helped me grow as an independent research scholar. This journey has many cherishable memories, but I would rank the long walks I used to take with my advisor, Professor Bruce Golden, to discuss life goals and plans, in general which were outside of just research. This was the best.
What drew you to pursue your doctorate at the Smith School of Business? 
The excellent research environment and quality at the Smith School and UMD, in general, helped me make this decision. In fact, during my time at UMD, in 2015, the Smith School Ph.D. Program was ranked #9 globally by Financial Times among business schools. Some Smith School faculties, including my advisor, are ranked among the best researchers in the world. In my undergrad, I had a pure math background and wanted to do something more applied related to my skills. So, the Operations Management/Management Science Ph.D. Program at the Smith School was the right fit.
It looks like you participated in the 3MT competition and took advantage of other campus opportunities. Can you tell us more about those experiences and how they helped you during your time at UMD?
Yes, I participated in, contributed to, and received awards from various opportunities provided exclusively by the UMD Graduate School, which was in addition to the Smith School resources I availed. I received the Kulkarni Summer Research Fellowship, Jacob K. Goldhaber Travel Grant, International Conference Student Support Award, and Outstanding Graduate Assistant Award. I was a runner-up for Graduate Research Appreciation Day (GRAD) presentation and a finalist for the 3MT Competition. These opportunities and accomplishments along the Ph.D. journey were crucial to boost confidence in my abilities and work.
What was your professional journey like getting into your field after graduating from the Robert H. Smith School of Business? How did you prepare for your job search?
My professional research career is in the field of retail, supply chain, transportation, logistics, and service operations. The methodologies employed in my research range from optimization and machine learning to data-driven decision making under uncertainty. My Ph.D. research was fully aligned with what I am doing in my professional career. When I was ready to graduate, I interviewed with recruiters at the INFORMS Annual Meeting, my field's largest and most important research conference.
What experiences as a graduate student (beyond your academic work) contributed to finding a position at Oracle?
After my Ph.D., I started my professional career as a Research Scientist at Staples, the largest B2B retailer. Participating in various on-campus opportunities provided by the UMD Graduate School and the Smith School made me interact with Ph.D. students from different backgrounds and research areas. This forced me to explain my research concisely with good examples and use cases, which helped me immensely during my job search and interviews. After working at Staples for almost two years, I moved to Oracle last summer as a Senior Research Scientist. Even during my second job search, these same experiences played a significant role. 
What advice or tool worked well as you searched? What did not work?
The advice that turned out to be the most important during my job search was to step out of the bubble involving the details of my dissertation research. It is essential to understand that the recruiters are not always interested in the granular details of what we have done in our Ph.D. They want to know how the skills one has acquired will help solve the problems they are interested in. Therefore, one needs to summarize their research and skills in a way that is meaningful to the other party. The advice that did not work for me was to apply to as many jobs as possible or talk to as many recruiters as possible. Time is very limited, so it is crucial to prioritize who we are speaking to during the job search.
How did you network?
As a Ph.D. student, I traveled to and presented my work at various reputed national and international conferences, thanks to the generous funding from the Smith School, the UMD Graduate School, and my advisor. I made full use of my opportunities at those conferences to network with fellow Ph.D. students from other top schools, UMD Ph.D. alumni, and also with other academic and industry researchers. In addition, my department (Department of Decision, Operations & Information Technologies) at the Smith School held weekly research seminars delivered by external speakers. The department Ph.D. students were allowed to interact with the speakers during breakfast at the College Park Marriott on the day of the seminars. So, good discussions and good free food, a perfect world for Ph.D. students!
What are your career aspirations? What do you hope to do long term?
As a professional industry researcher, I want to impact the broader field of Supply Chain positively. Almost everyone, after COVID, is familiar with the term "Supply Chain." Without an efficient Supply Chain, the whole world can come to a standstill in a few days. This field involves solving complex mathematical problems involving tools and techniques from optimization, machine learning, and data science. I want to make the world a "little" better by making the Supply Chain more efficient, catering to the needs of both suppliers and customers.
You mentioned that Supply Chain has come into the limelight due to the issues faced during COVID-19. How has your work/field been impacted by the pandemic?
Almost all Supply Chain related problems that we solve (demand forecasting, inventory and assortment optimization, pricing and promotion optimization, recommendation systems, etc.) involve using historical data. The historical data holds all the information regarding customer behavior and their responses to various external factors the retailers and suppliers set forth. Since COVID happened, customer demand patterns have changed drastically, and it keeps changing very fast. So, the historical data loses its essence before the information can be used. All mathematical models and analytic solutions have gone for a toss for this reason. Industry researchers need to reinvent the wheel to solve the same problems but with much less amount of usable data, making the challenge even harder.
What is your #1 piece of advice to GradTerps who are considering UMD for their graduate degree?
Incoming graduate students should make full use of the opportunities provided by the UMD Graduate School and their respective departments to interact with fellow students and exchange ideas and culture. It is a great way to grow as a scholar. Students should also make use of the fact that Washington, D.C. is very close by. There are always some ongoing conferences, meet-ups, etc., in the city that will cater to the needs and interests of students from all cultural and socio-economic backgrounds.
What is your #1 piece of advice to GradTerps who are preparing to graduate and beginning their professional lives?
Outgoing graduate students should plan clearly and strategically about their future professional career. UMD has a very strong alumni network. Students should start reaching out to alumni for discussions and directions about career paths well before starting their job search. Students should also make full use of various resources provided by the UMD Graduate School and their respective departments to help navigate the job search process.
Anything else you'd like to share with us?
As an international student, it is very important to plan the graduation date and job search process properly. These two decisions depend on each other. It is also crucial to find an established and stable employer willing to sponsor visas to enable you to work legally in the U.S. after graduation.