2023 Doctoral Career Pathways Conference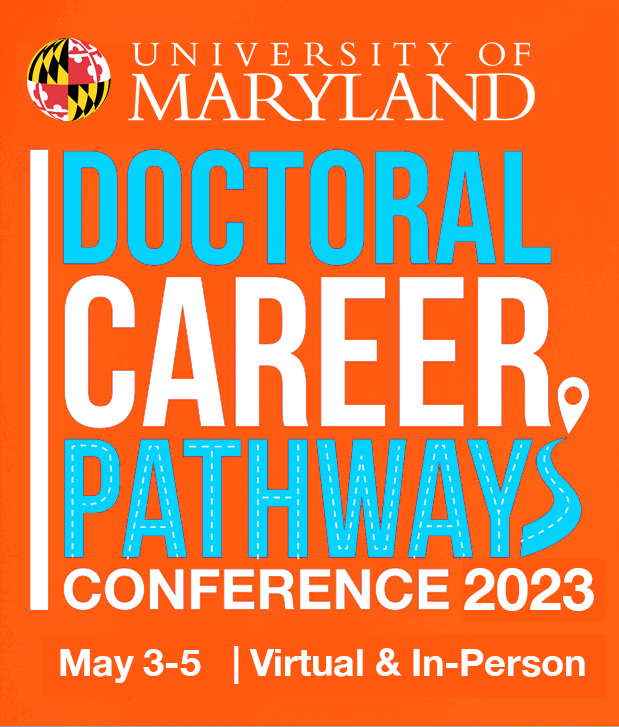 It's that time of the year again! The 6th Annual Doctoral Career Pathways Conference will increase your knowledge, curiosity, and excitement about how to get from here, wherever you are in your doctoral training, to your career beyond Maryland.
This event brings together alumni, current doctoral students, and postdocs to:
learn about the wide variety of career paths available to those with doctoral degrees;
gain knowledge about the work alumni do and the skills necessary 

for success in their chosen career path and industry

;

allow alumni to speak about opportunities at 

their organization

; and

create an opportunity for networking and advice sharing among all attendees.

To help you feel more prepared and take full advantage of this conference, make sure to attend the in person pre-conference workshop led by Dr. Yi Hao, Program Director for Career and Professional Development at the Graduate School on Tuesday, April 25. This workshop will help you choose the conference sessions that best align with your values and interests, as well as provide guidance for networking at the conference.
| Tuesday, April 25 | Preparing for the career conference: What is it and how do you get the most out of this experience? |
| --- | --- |
| 12-1:15pm 2124 Lee Building | You may be familiar with going to academic conferences. What about going to a conference where PhDs of many disciplines come together to discuss career development outside of academia? To prepare for the Doctoral Career Pathways Conference, come to this workshop to identify your career interests, set concrete goals, and learn about best practices on LinkedIn profiles, telling your stories, and building professional networks. Food will be served. REGISTER HERE by Friday, April 21. |

This year, in addition to the conference-day events, we are offering four more events on Wednesday and Thursday for those who are unable to join us in person to mingle and learn. Remember, everything is at no cost to UMD students/postdocs, so do not miss this opportunity!
| | WEDNESDAY, MAY 3 |
| --- | --- |
| 12pm-1pm 3135 Hornbake Library | Converting Your Doctoral CV to a Resume (In Person Workshop) What exactly is the difference between a CV and a resume? What should be included on a well-constructed resume so employers notice you? This workshop will provide tips to enable you to efficiently make the leap from CV to resume as a doctoral student/postdoc. Food will be served. REGISTER HERE! |
| 2pm-3:15pm Via Zoom | Careers in Higher Education (Virtual Panel) Working in academia means so much more than tenure-track jobs. Not only do you have the option to choose an institution (beyond R1) that aligns with your value and passion, you can also choose the line of work based on your skills and interests. Hear from alumni working in a variety of capacities including student-facing roles, academic administration, community colleges or regional universities. Learn more about diverse pathways within higher education and how these might fit your career goals. REGISTER HERE! Panelists: Tom Geary (PhD'16, English) | Nabila Hijazi (PhD'20, English) | Analía Gómez Vidal (PhD'20, Government and Politics) | Amanda Woodward (PhD'20, Psychology) |
| | Thursday, May 4 |
| --- | --- |
| 12pm-1pm 3135 Hornbake Library | Elevator Pitch (In Person Workshop) You only get one chance to make a great first impression! Engaging in networking activities raises your awareness of your personal "brand" by meeting other professionals and sharing your abilities, skills, and background. In turn, when contacts in your network learn about potential job opportunities, they may immediately think of you. Improve your communication skills with this workshop. Food will be served. REGISTER HERE! |
| 2pm-3:15pm Via Zoom | So You Are Considering a Postdoc? (Virtual Panel) A postdoc position may (or may not be) the right next move for you depending on your career goals. Attend this panel to learn more about the many reasons for pursuing a postdoc. You'll also gain valuable advice about how to land a position. Panelists will share their experiences and advice for anyone considering a postdoc as their next career move. REGISTER HERE! Panelists: Sarah Benish (PhD'20, Atmospheric and Oceanic Science) | Kianté Brantley (PhD'22, Computer Science) | Anne Jorstad (PhD'12, Applied Mathematics & Statistics) | Mauricio Rangel-Gomez (PhD'14, Psychology) | Shayandev Sinha (PhD'18, Mechanical Engineering) |
Event Schedule
9:00am - 9:30am: Check-in and Breakfast
9:30am - 9:50am: Opening Remarks by Dr. Robin Cresiski, Assistant Vice Provost for Graduate Student Development and Postdoctoral Affairs at the University of Maryland Baltimore County: "Appreciate the Journey, the Destination is You"
10:00am - 11:15am: Concurrent Panel Discussions
Careers with the Federal Government • @ Benjamin Banneker A 
PhDs are employed across agencies and departments of the Federal Government. For many doctoral students and postdocs the thought of a federal career seems intriguing while the process of applying is overwhelming. Learn more from these alumni about the process for landing a federal job and the culture of public service employment.
Panelists: Lauren Doamekpor (PhD'14, Maternal and Child Health) | Amanda Forster (PhD'12, Materials Science and Engineering) | Luc Hebou (PhD'10, Biological Resources Engineering) | Dina Kurzweil (PhD'15, Teaching and Learning, Policy and Leadership) | Raymond Williams (PhD'18, Government and Politics)
Data Science Careers • @ Benjamin Banneker B  
How does someone prepare to work in data science? Get an exclusive look at how some of our very own alumni got their start, and learn about the skills needed, what they do, and what YOU need to prepare for this kind of career.  
Panelists: Diana Alkire (PhD'21, Neuroscience and Cognitive Science) | Theresa Kim (PhD'17, Health Services Administration) | Dustin Moraczewski (PhD'19, Neuroscience and Cognitive Science) | Anand Ramanathan (PhD'11, Chemical Physics) | Alessandra Zimmermann (PhD'19, Chemistry & Biochemistry) 
11:15am - 11:30am Break 
11:30am - 12:30pm Professional Development Activities
Get a professional headshot!
Have your CV/resume reviewed by a professional! • @ Colony Ballroom

Want to have some quick feedback on your CV/resume? We will have 3 career professionals to look at your materials and answer any questions you may have about your CV/resume. This is a great opportunity for you to get feedback based on what you've learned from the panelists and highlight your accomplishments to stand out to future employers.  

 

​​​

Learn how to design and implement a Wellness Plan with Simone Warrick-Bell, Graduate School Academic Counselor • @ Benjamin Banneker A

Taking care of yourself is essential to your success in your professional life as well as your personal life. The session "Creating Your Wellness Plan" will help you assess the areas of your life which need additional care, develop steps to improve wellness and how to improve accountability through a compassionate lens.  This session will involve conversation with others and an opportunity to reflect on your wellness goals. At the end of this session you have the foundation of your own wellness plan.

Learn what you should know about employment authorization in the U.S. with Aviana Symon, Senior International Student Advisor, International Student & Scholar Services, and Yetnayet (Mimi) Lemma, International Scholar and Faculty Advisor, International Student & Scholar Services • @ Benjamin Banneker B

ISSS will review a variety of employment visas and options available to you: CPT, OPT, AT, J1, H-B and others and how to navigate the job search process as an international PhD student/Postdoc.  
12:30pm - 1:40pm: Lunch 
1:45pm - 3:00pm: Concurrent Panel Discussions
Research Outside of Academia • @ Colony Ballroom
Expand your knowledge about possible career paths and organizations that utilize those quantitative and qualitative research data collection and analysis skills you have developed during your doctoral education.
Panelists: Megan Fitter (PhD'22, Developmental Psychology) | Haiqiu Huang (PhD'14, Nutrition and Food Science) | Yun-Ting Kao (PhD'17, Biochemistry and Cell Biology) | Adelaide Nolan (PhD'21, Materials Science and Engineering) | Polina Zvavitch (PhD'21, Sociology)
Social Impact: Doctoral Careers with a Cause • @ Benjamin Banneker A
Are you passionate about social issues? Big world problems? Local causes? Learn more about how UMD doctoral alumni live out their interests and values by doing work in the broad ImaginePhD job family of Advocacy.
Panelists: Heather Creek (PhD'13, Government and Politics) | Ashlee Lane (PhD'14, Biomedical Sciences) | Yuhan (Douglas) Rao (PhD'19, Geographical Sciences) | Betsy Read-Connole (PhD'00, Cell Biology and Molecular Genetics) | Kate Spanos (PhD'16, Theatre, Dance, and Performance Studies)
4:30pm - 6:30pm: Happy Hour @ Ledo's Pizza at College Park
Let's continue the conversations over your choice of beverage! It's a great opportunity to chat one on one with alumni, peer students, and professionals who are in the doctoral network for a deeper dive.
Should you need any further information, please do not hesitate to contact the event's Chair, Dr. Blessing Enekwe, at blessing@umd.edu