Postdoctoral Research Symposium 2022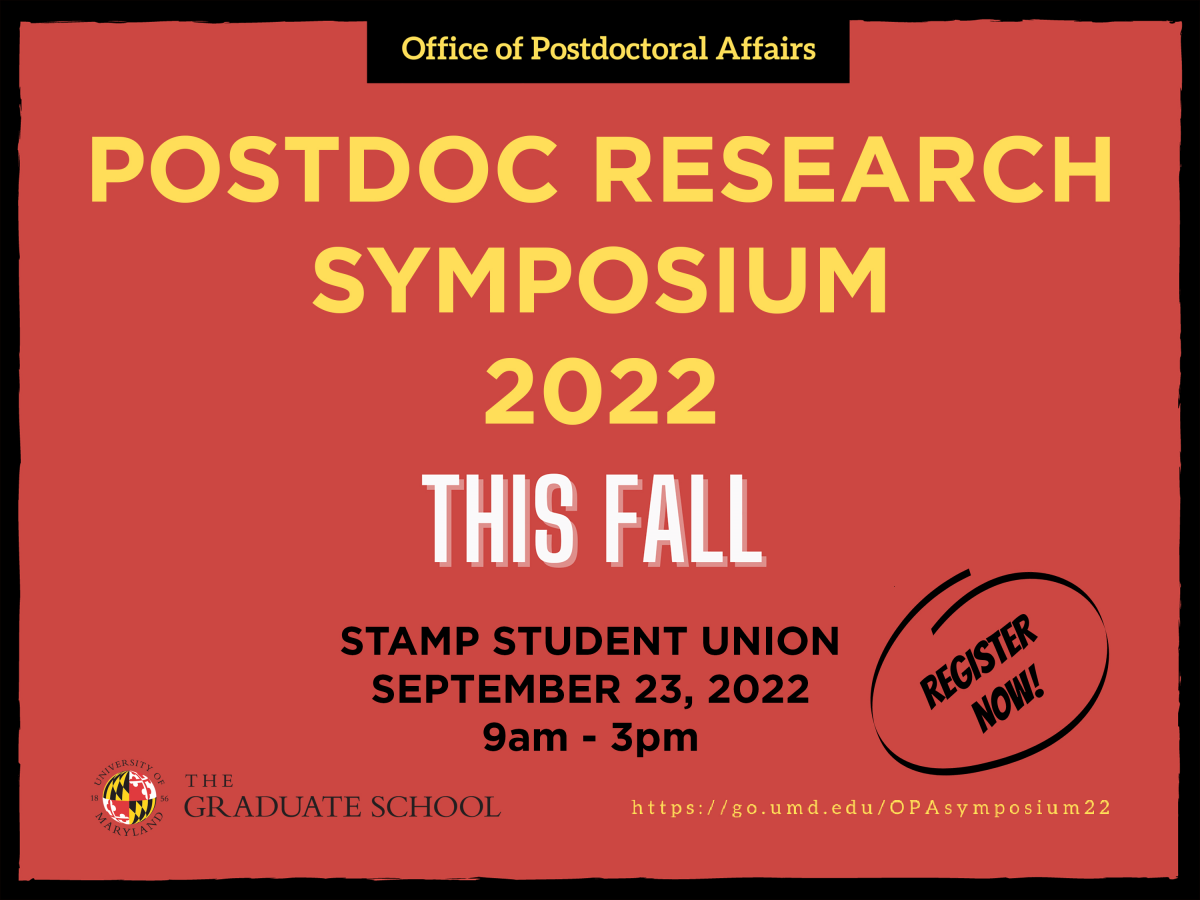 The Office of Postdoctoral Affairs in the Graduate School at the University of Maryland will be hosting an
in-person
research symposium on 
September 23, 2022
, in conjunction with the 
National Postdoctoral Appreciation Week
. This event will feature two sessions led by a variety of speakers who will offer their insights on skills needed for postdocs career development.
The symposium has three primary goals:
to recognize and showcase the research postdocs are performing at the University of Maryland;
to provide four separate workshops to help identify and build techniques needed for postdocs, including identifying and applying for grants and grant management; and 
to provide an opportunity for postdocs to interact and network with one another, as well as staff and faculty from across campus. 
The Postdoctoral Research Symposium will be held in the Stamp Student Union. Registration will open at 9:00 am and the event will end at approximately 3:00 pm.
*This event will be held in person only, and we will be following the University of Maryland's COVID-19 safety protocols. Wearing a mask is not required while indoors in most situations. However, attendees should feel free to wear a KN95 mask while indoors for added protection.
Event Schedule (check the workshop conveners' profiles as well as a complete list of our posters here (.doc) and here (.pdf)
9:00 am - Registration and Breakfast
9:30 am - Opening Remarks
Steve Fetter, Associate Provost for Academic Affairs and Dean of the Graduate School
Blessing Enekwe, Program Director, Office of Postdoctoral Affairs (OPA)
Simone Warrick-Bell, Graduate Academic Counselor. Balancing Wellness with a Job Search?
10:00 am - Session 1 (Two Concurrent Workshops)
Workshop 1: Tips for Successful Grant Writing
If you are a beginning grant writer, this interactive workshop will provide you with the essential tools and tips needed to write a successful grant proposal from start to finish. Join us for a discussion on the process, structure, and skill of professional proposal writing! This workshop will be led by Dr. Amanda Dykema, Proposal Development Manager, Research Development Office.
Workshop 2: Preparing to Write a Diversity Statement
Academic positions increasingly ask applicants to demonstrate how they have and will contribute to the equity and diversity values of the institution. But you can't address your commitment in a document if you haven't made that commitment in your teaching, research, and service. Join us for this workshop to explore the purpose of a diversity statement and to begin considering how to demonstrate your work and values.
This workshop will be led by Dr. Linda Macri, Director, Academic and Professional Development, The Graduate School.
11:15 am - 

Break
11:30 am - Poster Session 
12:30 pm - Lunch
1:15 pm - Session 2 (Two Concurrent Workshops)
Workshop 1: Managing Your Grant
In this interactive workshop you will learn how to keep your projects on track, comply with regulations, and protect your organization from poor grant management. This event is recommended for grant recipients across all disciplines and will be led by Dr. Katerina (Kaci) Thompson, Assistant Dean for Science Education Initiatives, College of Computer, Mathematical, & Natural Sciences.
Workshop 2: Improvising While Teaching
Through improvisation we can experience what it takes to be responsive, constructive, and authentic educators. In this playful workshop, attendees will participate in activities designed to introduce the tenants of improv. We will debrief our experiences and draw connections with the practice of teaching through group conversations. This workshop is open to all and no former knowledge or experience with improv or classroom instruction are required. This workshop will be led by Christine Alexander, Teaching and Learning, Policy and Leadership Instructor. 
2022 Postdoctoral Symposium Planning Committee Members:
Blessing Enekwe, Program Director for the Office of Postdoctoral Affairs (Symposium Co-Chair)
Thiago Pezzuto, Graduate Assistant, Office of Postdoctoral Affairs (Symposium Co-Chair)
Naresh Kumar Amradi, Department of Environmental Science & Technology
Qian He, Department of Civil & Environmental Engineering
Seyedali Hosseinirad, Department of Plant Science & Landscape Architecture
Aprajeeta Jha, Department of Nutrition and Food Science
Oleksandra Kepple, Veterinary Medicine Program
Kang Liang, Earth System Science Interdisciplinary Center
Chathuri Mohottige, Department of Chemistry & Biochemistry
Troi Williams, Institute for Advanced Computer Studies
Dilek Yildiz, Joint Quantum Institute 
PLEASE BOOKMARK THIS PAGE FOR FURTHER INFORMATION
MORE DETAILED SCHEDULE INFORMATION WILL BE ADDED CLOSER TO THE EVENT