Postdoctoral Research Symposium 2019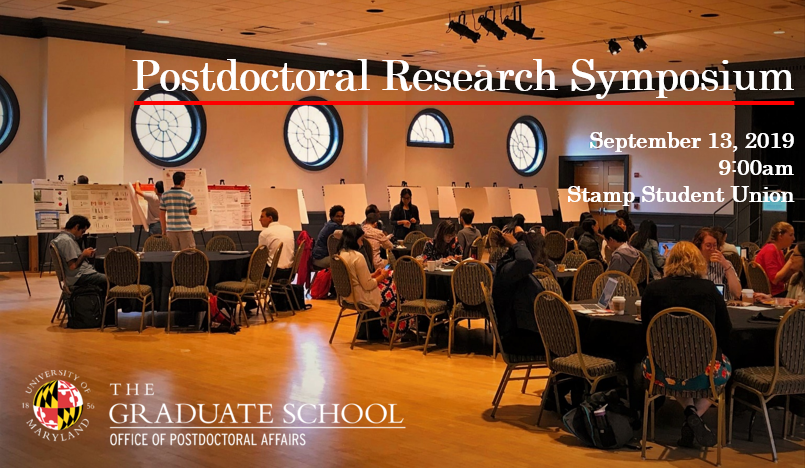 The Office of Postdoctoral Affairs in the Graduate School at the University of Maryland will be hosting a day long research symposium on September 13, 2019, in conjunction with National Postdoctoral Appreciation Week. This day long event will feature eight sessions led by a variety of speakers who will offer their insights on what it takes to be a successful researcher in today's job environment.
The symposium has four primary goals:
to recognize and showcase the research postdocs are performing at the University of Maryland;
to provide four separate workshops to help identify and build techniques needed for researchers including effective teaching and communication, the grant review process, and career strategies for international scholars; 
to provide an opportunity for postdocs to interact and network with one another, as well as staff and faculty from across campus; and 
to discuss the transition from postdoctoral researcher to independent researcher/faculty member.
The Postdoctoral Research Symposium will be held in the Stamp Student Union. Registration will open at 9:00am and the event will end at approximately 4:00pm.
Event Schedule (check the panelists' profiles here (.doc) and here (.pdf))
9:00am - Registration and Breakfast
9:30am - Opening Remarks
Steve Fetter, Dean of the Graduate School
Blessing Enekwe, Program Director, Office of Postdoctoral Affairs (OPA)
Keynote address by Dr. Mateo Munoz, Assistant Provost for Budget and Strategic Planning at Colorado College
10:00am - Session 1 (3 workshops)
Grant writing? Think of the review

John Bertot - Associate Provost for Faculty Affairs and Professor in the College of Information Studies (iSchool)
Iqbal Hamza - Professor, Department of Animal & Avian Sciences
Wolfgang Losert - Professor, Department of Physics, and Associate Dean for Research and Graduate Education, College of Computer, Mathematical & Natural Sciences (CMNS)
Susan Winter - Associate Dean for Research and Co-Director of the Center for Advanced Study of Communities and Information 

Communicating your research to a broad audience

Linda Macri - Director, Academic and Professional Development, Graduate School

Network strategy and importance of digital presence

Karen Lips - Professor, Department of Biology
11:15am - Break
11:30am - Session 2 (3 workshops)
Working on a visa? Perspectives for international postdocs

Brendan Delaney, Esq. - Frank & Delaney Immigration Law, LLC

The fearless teaching framework: Evidence-based effective teaching

Marissa Stewart - Assistant Director for Graduate Programs, Teaching & Learning Transformation Center (TLTC) 

Networking for introverts

Jeffrey Yeung - Graduate Student in Counseling Psychology at the University of Maryland
12:45pm - Lunch/Poster Presentations 
2:30-4:00 pm - After the Postdoc - Transitions Panel (Panel Session)
Shaun Gittens - Director, Machine Learning Capability at MasterPeace Solutions
Mauricio Rangel Gomez - Neuroscientist, Postdoctoral Fellow at University of Maryland
Katherine Joanne Johnson - Postdoctoral Researcher and Project Director, University of Maryland & Deal Island Peninsula Project
Phillip Staniczenko - Assistant Professor of Biology at Brooklyn College and the Graduate Center, City University of New York 
Daryle Williams - Associate Professor of History and Associate Dean for Faculty Affairs in the College of Arts and Humanities (ARHU)
4:30pm-6:30pm - Networking Happy Hour at Milkboy Arthouse
2019 Postdoctoral Symposium Planning Committee Members:
Blessing Enekwe, Program Director for the Office of Postdoctoral Affairs (Symposium Chair)
Tao Cao, Postdoctoral Associate, Department of Mechanical Engineering
Mary Chessey, Postdoctoral Associate, Department of Physics
Katherine Joyner, Postdoctoral Associate, Fischell Department of Bioengineering
Yun-Ting Kao, Postdoctoral Associate, Department of Cell Biology & Molecular Genetics
Navot Naor, Postdoctoral Associate, Department of Psychology
PLEASE BOOKMARK THIS PAGE FOR FURTHER INFORMATION
MORE DETAILED SCHEDULE INFORMATION WILL BE ADDED CLOSER TO THE EVENT
*Registration will include a $15 deposit that will be refunded after the event.