Postdoctoral Research Symposium 2023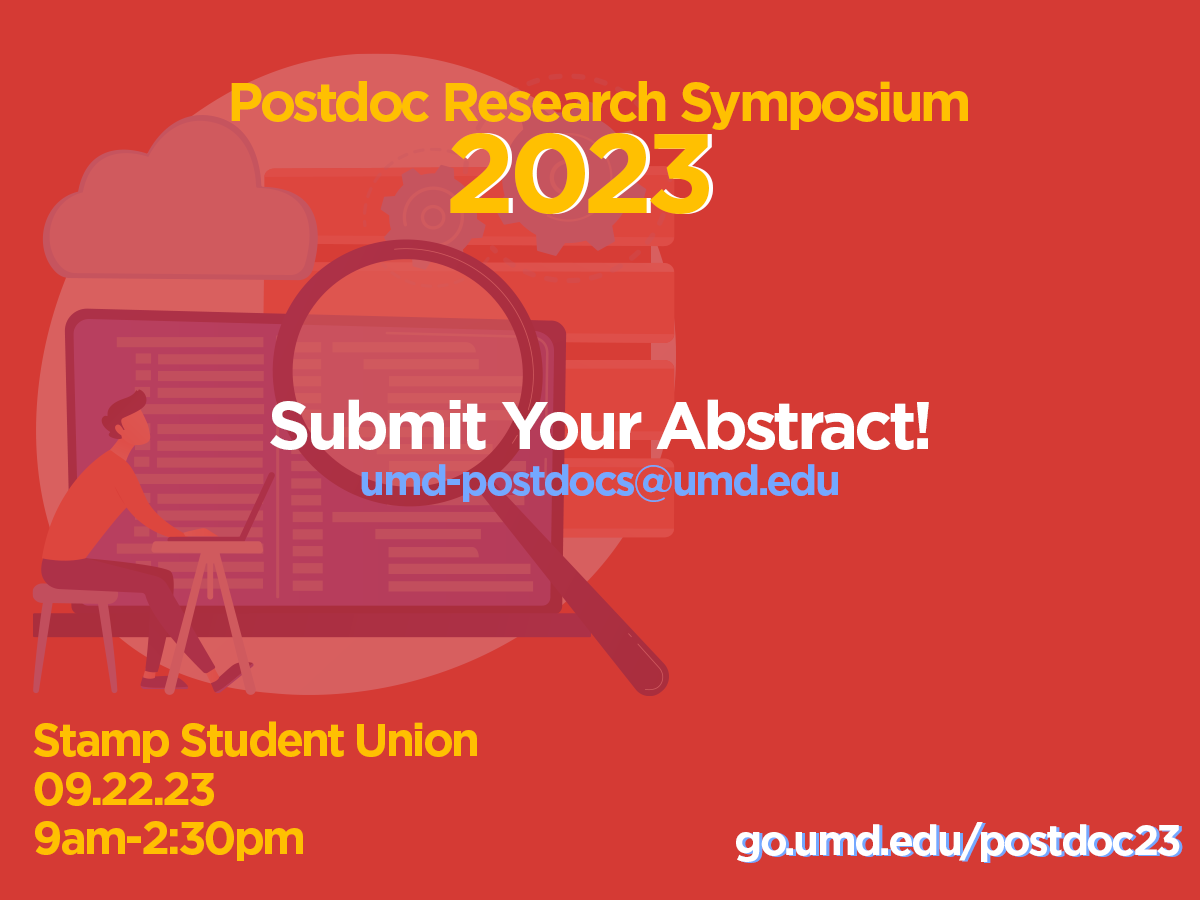 The Office of Postdoctoral Affairs in the Graduate School at the University of Maryland is pleased to host an in-person research symposium on September 22, 2023, as part of the National Postdoctoral Appreciation Week. This event will feature two sessions led by a variety of speakers who will offer their insights on skills needed for postdocs career development.
The symposium has three primary goals:
to recognize and showcase the research postdocs are performing at the University of Maryland;
to provide four separate workshops to help identify and build techniques needed for postdocs, including identifying and applying for grants and grant management; and 
to provide an opportunity for postdocs to interact and network with one another, as well as staff and faculty from across campus. 
The Postdoctoral Research Symposium will be held in the Stamp Student Union. Registration will open at 9:00 am and the event will end at approximately 2:30 pm.
Submit Your Abstract!
We are accepting abstracts for the symposium! Please write a brief, clear, and concise abstract summarizing your research. The abstract should not exceed 300 words. To submit your abstract, click here or email it to umd-postdocs@umd.edu no later than September 8, 2023.
9:00 am - Registration and Breakfast
9:30 am - Opening Remarks
Blessing Enekwe, Program Director, Office of Postdoctoral Affairs (OPA)
Stephen Roth, Associate Provost and Dean of The Graduate School
10:00 am - Session 1 (Two Concurrent Workshops)
Workshop 1: Tips for Successful Grant Writing (Charles Carroll Room A)  
If you are a beginning grant writer, this interactive workshop will provide you with the essential tools and tips needed to write a successful grant proposal from start to finish. Join us for a discussion on the process, structure, and skill of professional proposal writing! This workshop will be led by Dr. Amanda Dykema, Proposal Development Manager, Research Development Office.
Workshop 2: Strategically Enhance Your Postdoctoral Training for Diverse Career Success (Charles Carroll Room B)  
The postdoctoral phase, spanning two to five years, aims to enhance PhD researchers' career prospects. Whether you are interested in academia, industry, government, or non-profit, this significant crossroads prompts questions about your next steps. Join this session to discover how you can optimize this transition period and hone skills vital across diverse career paths. You will also learn about the professional development resources at UMD and beyond. This workshop will be led by Dr. Yi Hao, Program Director, Career and Professional Development. 
11:15am - Poster Session | Announcement of 1st Mentor of the Year Award Winner 
12:00pm - Lunch | Announcement of 2nd Mentor of the Year Award Winner & Award Nominees
1:15pm - Session 2 (Two Concurrent Workshops)
Workshop 1: Tech Transfer: Bridging Research and Entrepreneurship (Charles Carroll Room A)
The transition of academic discoveries into practical applications is an exciting and complex journey. This workshop will explore the pathways through which research can translate into societal impact, focusing on the role of technology transfer. Whether you aspire to commercialize your research or want to understand how your work can lead to entrepreneurial endeavors, this workshop is for you. We'll delve into the various mechanisms for tech transfer and collaboration with industry. The session will also offer insights into the entrepreneurial mindset needed to bring innovations from the lab to the market.  
Workshop 2: Communicating Science to Broader Audiences (Charles Carroll Room B)  
You've mastered the challenges of communicating your research findings to others in your discipline, but communicating the meaning, significance, and impact of your research to audiences beyond your discipline poses lots of new challenges.  How can you inform, explain, persuade, and maybe entertain folks beyond your field that what you study matters to them—and is just plain cool? Is it just jettisoning the jargon?  In this workshop, we'll explore things to consider and strategies to try when you want to communicate your science more broadly (and really, this isn't just for STEM folks!). This workshop will be led by Dr. Linda Macri, Director, Academic and Professional Development, The Graduate School.    
2023 Postdoctoral Symposium Planning Committee Members:
Blessing Enekwe, Program Director for the Office of Postdoctoral Affairs (Symposium Chair) 
Aprajeeta Jha, Department of Nutrition and Food Science 
Carla Arnau Del Valle, Fischell Department of Bioengineering
Elina Sofia Valkonen, Earth System Science Interdisciplinary Center
Naresh Kumar Amradi, Department of Environmental Science & Technology
PLEASE BOOKMARK THIS PAGE FOR FURTHER INFORMATION
MORE DETAILED SCHEDULE INFORMATION WILL BE ADDED CLOSER TO THE EVENT