Have a Plan for Your Career
All PhD students and Postdoctoral Associates should proactively manage their career and professional development. Creating a written career and professional development plan will help you clarify your short and longer-term career goals and the steps you will take to get there. You should think about this as a working document that outlines your own personalized semester-by-semester action plan. In it you will identify specific tasks and experiences you plan to complete in order to clarify your career career goals, explore career options, develop specific skills and competencies related to your chosen career paths, or implement a job search.
The Careeer Development Model below illustrates the cyclical nature of the  process that is repeated through out one's career.  
Where are you in the cycle? Do you need to spend some time identifying or reassessing your values, interests, and strengths? Or do you need to explore specific career paths and job options. Perhaps to are ready to make decisions, set some goals and do some action planning? Maybe you are ready to put your plan into action. It is important at the end of each semester and year to spend some time reflecting on what you learned about yourself and to make appropriate changes to your written plan for the upcoming year. Remember, your plan is a living document that should be revised as you gain insights, gather information and learn from your experiences.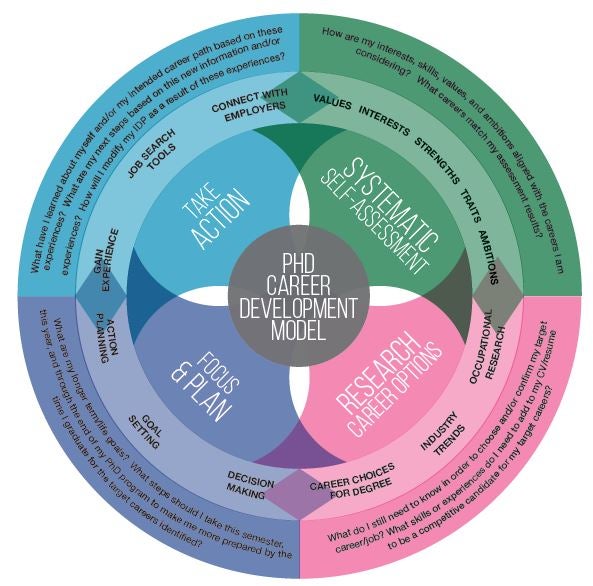 PhD Career Planning and Exploration Tools
MyIDP - MyIDP (Individual Development Plan) is a free, online tool for PhDs in the sciences.
Versatile PhD -  online community dedicated to non-academic and non-faculty careers for PhDs in humanities, social sciences, and STEM.
ImaginePhD - a career exploration and planning tool for the humanities and social sciences.